Lia's Coronacation
Making the most of my coronavirus break while trying not to go crazy.
Lia Vincenzo, Reporter
March 19, 2020
April 3, 2020
I know that I haven't updated this blog in a while. It's not because I've been too busy, rather, it's that I've done nothing worth writing about for over a week. I realised that I was getting into a funk and steering drastically off the course of my 'coronacation' plan so I decided to turn it around.
I woke up at 9:30, which is a good two hours earlier than usual. Part of my original 'coronacation' plan had been to work out, so one cup of coffee and a quick youtube search later, I was standing in my bedroom ready to get that summer body. Let me just say, it was WAY more difficult than I'd expected. Still, after what seemed like the longest hour imaginable, I was left feeling refreshed and energized for the day ahead.
Unfortunately, the sickening amount of toasted marshmallows I ate this evening might have just cancelled out all of my hard work. I guess my accompanying diet will have to start tomorrow!
March 25, 2020
I turned 17 today. Originally my friends and I had planned to go to Gravelly Point at sunset, but then coronavirus happened so plans had to change. Since then, I'd been worried that my birthday would be a flop because I'd stuck inside my house alone. Turns out, I'd stressed over nothing because even though we couldn't spend time together, my friends still managed to make my day really special.
Even though we had to practice social distancing, my friends still came over and stood outside the door to wish me happy birthday. It might not have been Gravelly Point, but it helped my birthday seem a little more normal. 
I finished off the night with some Chinese take out and chocolate ice-cream.
March 21, 2020
Today I decided to give my guinea pig, Mr. Coffee, a bath. To be clear, baths are the only thing in life that Mr. Coffee hates more than exercise. 
With this in mind, I grabbed a carrot and a handful of lettuce in an attempt to bribe him before scooping him up in his little gray basket and carrying him down to the bathroom. 
Before placing him in the bath, I grabbed my laptop to play him some relaxing guinea pig music. It might sound crazy, but this, along with a hearty heaping of treats is the best way to keep him calm. 
Once he was in the bath, the poor baby looked so pathetic that I quickly lathered him with soap, rinsed him off and then wrapped him in a warm towel. He patiently nibbled on his snacks while I toweled him off. Soon enough he was all nice and dry, looking like a brand new pig.
March 19, 2020
After nearly a week without school, lying in my bed with nothing to do but mourn all of my cancelled plans, I decided that I was going to make the most of this endless free time a.k.a. 'Coronacation'.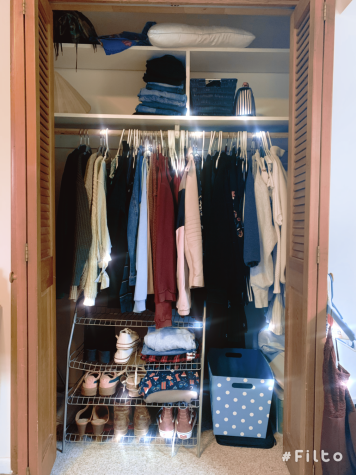 To keep myself from going stir crazy, I decided to start with some light spring cleaning. Step 1: my closet. 
To give you an idea of what I've got to work with, in my closet there is a single wooden bar which was literally drooping under the weight of my excessive amount of clothing. The floor? Nonexistent. On top of that, it was so stuffed that the doors won't even close.
The first course of action was to take out all my clothes and lie them on my bed. From there, I would use the rest of my bed to make three piles: keep, donate, maybe. The problem? Once I laid out the mountain of clothing, there wasn't even a glimpse of the bed underneath, let alone enough space to create three piles. 
Since I'd already committed, I shoved all my floor clutter under my desk and proceeded to make my piles on the floor.
Nearly 2 hours later, I was left with three bags for the thrift store and a closet that's doors could actually close. Now, onto my vanity!