Reading relieves restlessness
April 22:
I committed to Mount Holyoke College today, which was very exciting! I hope we can all go to college in the fall! I have been keeping busy over the past few wees with school work and I've been cleaning out my stuff/figuring out what I want to bring to college with me!  I've got to say though FCPS has not been handling this transition well. I want to be understanding because this is a pretty insane time, but they took a month to set it up and failed for a variety of reasons including how blackboard couldn't handle the number of students (that seems like something they should have considered during that month). I also got by brother into Gilmore Girls which is exciting (He doesn't like Dean). Anyways as always I hope you all are well (I'll try to update more frequently)!
March 30: 
I thought today was Friday.
March 25:
I talked to my mom about how I am excited for college but will miss her and dad a lot when I go.
Her response was "Not by the end of this you won't."
March 23: 
So this is not how I pictured senior year going.
I understand why school has been closed for the rest of the year, but it's still really upsetting. I'm a senior and like many others can't help feeling like we're missing out on a lot.
It's an understatement to say that it's pretty strange time.
I really don't have much to say this time, I'm still processing all of this, but here are things that have happened recently:
My brother has turned into a third parent
I'm commenting on Facebook (which is a very confusing thing to navigate)
My brother and I finished season 2 of The Good Place
Lately I've taken to reading first thing in the morning which has also been a nice way to start the day. I'm almost finished with A Quiet Kind of Thunder by Sara Barnard and recommend it.
Also Dasha has called for more cat photos, so stay tuned.
March 21: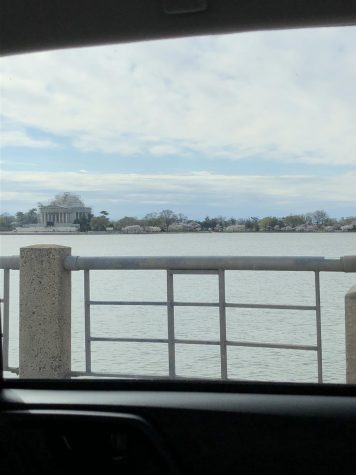 I started my day by doing some yoga. I had been working with one of the instructors at a yoga studio that I regularly went to (before all this) and she had put together some poses for me. So I started of with some gentle chair yoga and then moved to standing poses. It was a wonderful way to wake myself up.
I'm rewatching The Good Place with my brother (who has never seen it) which is good fun, so we watched a few episodes of that (we're about midway through season 2 if you're wondering)
After that my family piled into the car (finally getting out of the house) and took a driving tour of the Cherry Blossoms. We didn't get out of the car, so were practicing social distancing, but still got to see them.
When I got home my cat was excited to see me and I opened a window for her. She got very excited because we have a bird feeder and she got to watch the birds for a spell (Be prepared for lots of cat photos/stories).
I'm hoping to spend the rest of the day reading some more poetry (discussed in last blog) and working on Gov. I hope you all are doing okay.
March 20:
I heard from all my colleges so am now spending my time making pro/con lists to try to make my decision. Oh, and I created my first Facebook account yesterday, so that was terrifying. I'm really not a fan of social media. In Personal Finance and Economics we researched those infamous terms and conditions-they're bad, guys. For example, Instagram owns any photos or videos you post (even if you delete your account), which is insane. So I wasn't exactly thrilled about Facebook, but I think I've made my account as private as I can and I'll need it for college next year.
I've also been doing a fair bit of reading. My English teacher posted poems for us, so I've had a fun time comparing and contrasting "Do not go gently into that good night" by Dylan Thomas and "Let evening come" by Jane Kenyon.
Also my cat is ecstatic about this whole quarantine thing because she gets so much more attention now.
If anyone's reading this take care of yourselves and others around you.
March 19:
It is now the sixth day that school has been closed for. The first few days were pretty surreal and rough. Despite knowing that this was the best decision schools could make to keep our community safe, I couldn't help feeling extremely bored and was upset about not going to school and not being able to take care of my fish in oceanography.
I have been doing a variety of activities to keep myself productive and engaged. I started of with an edpuzzle for my Spanish class and then FaceTimed with a friend who lives in Northern Ireland. Their schools are closing after tomorrow and her A-level exams have been canceled, meaning they will either have to take all their exams next year (around 20-30) or will get predicted grades from their mock exams.
There are lots of challenges and complications across the globe due to this virus but it's important to remember that they are unfortunately necessary. Social distancing is difficult, I recognize that, I want to get together with my friends but like many others I know it would put a lot of people who are less fortunate than me at risk and that's a risk I'm not willing to take.
Also found two spider crickets in my room, I'm not thrilled about this development.