Preparing for the Art Show
McLean art students hang up art pieces for upcoming art show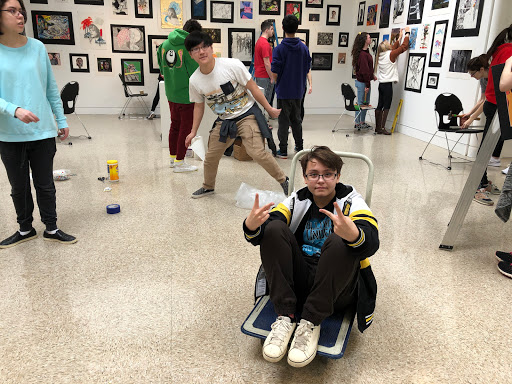 On Tuesday, Mar. 3, McLean art students volunteered at the McLean Community Center
to hang up art pieces for the art show on Thursday. 
"My teacher in my class was like, "Hey, we need help with the art show." I was like, "okay," so I came," senior Grace Myers said. 
Some students were there because their art would be featured in the show.
"[I hung up] the green one that I had to redo about 20 times," Myers said. 
Myers's painting features a portrait of one of her favorite anime characters cloaked behind bold stripes at haphazard angles running across the page. She worked on it for a long time. 
"I started it at the beginning of this year, but I edited it recently," Myers said. 
Others came for service hours. Ten hours total are required for National Art Honor Society. 
"I just need three more hours, then I'm done," junior Michael Jeong said. "I'm not really good at art, but I like the community so it's chill."
Students hung art by using hammers and thumbtacks. They were careful to tack the very edges of the mats around the drawings. For canvases, students used nails. 
"I helped set up the [paintings] on the wall," Jeong said. "That's basically it. It may no
t seem [like] much."
They made sure pieces were straight with levels. The students also used ladders for the highest pieces. 
The show wouldn't have been possible without the people behind the art. 
"They're all really cool art classes where people put a lot of ef
fort and fun into them," senior Rachel Nguyen said. "I just wanted to help out and be here. It's nice to see art from other artists."
Leave a Comment
Your donation supports the McLean High School's independent, award-winning news publication.