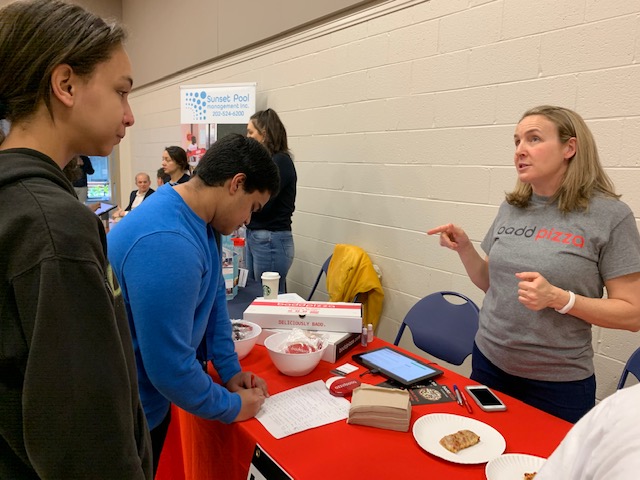 Swetha Manimaran
Summer- it's weeks of lounging around with nothing to do, tanning on the beach and forgetting absolutely everything that has to do with school. However, the closer students get to graduation, the more finite summer seems.
"Summer jobs are important for high school and college age students because it really builds real world skills," said Sarah Merianos, Director of Summer Programs at the Madeira School.
This past Tuesday, the McLean Community Association, with the help of McLean and Langley High Schools, hosted a summer job fair in order to help students with this nail biting process. The fair was held at the McLean Community Center and had a great turnout for booths advertising everything from tutoring to being a lifeguard.
Summer jobs are perfect for students looking to save or college or even just earn a little cash. The large turnout means that students can choose a job that fits their interests.
"I'm new to this area and I'm hoping to get a job this summer. Camp counseling and life guarding caught my attention," junior Lucas De Jong said.
Summer jobs offer different kinds of opportunities than the average after school job. Many of the booths at the fair offered seasonal jobs. The experiences students get in these jobs are hands on and teach students life skills that they wouldn't have gotten from an average day at school.
"At our program, you're not standing behind a desk or a register.You're actually planning, team building and working cooperatively with other young adults and kids," Merianos said. 
Summer jobs can sometimes come with prerequisites. One of the most popular summer jobs is life guarding which requires certification. Luckily, multiple stands at the job fair were ready to help students with this requirement.
"Our company offers certification through the Red Cross that's good for two years. So even if you don't decide to stay with us you get to keep that," American Pool company representative, Natalie Gallo said.
Whether students find themselves next to the pool or in a camp cabin, it is important to use summer break wisely and this job fair was an opportunity to plan for the future. 
"It's a really fun way to spend your summer instead of sitting in front of the TV and wasting away," said Merianos.