A night of celebration
International Fest promises to deliver a fun and festive atmosphere from 5-8 pm Friday. Highlighting both the special talents of Highlanders and our diverse student-body.
Enjoying a Samosa, learning about Combatting Intolerance class, watching the hidden talents of Highlanders. These would all seem like good nights separately, but together they are slated to create one of the largest non-athletic events of the school year: International Fest.
"With students coming from leadership class, combatting intolerance, and the international club, we will definitely see a broad range of people coming," McLean Senior and Leadership student Mareon Kebede said.
The decision to combine both events came at the last minute. Initially, Talent Fest was going to be hosted by leadership class on a separate date, and Friday's event would just be for the international night.
"Talent Fest and international night came together because we really wanted to celebrate the diversity at our school," Kebede said. "to separate the two different events wouldn't highlight all of our talents."
As for highlights of the night, many dance groups, clubs, and people looking to share their cultures are expected to come, making it hard to choose just one thing to look forward to.
"The international club and combatting intolerance class are going to start the event at 5 pm with international foods, music, and booths to highlight the beauty of diversity. After that is finished at around 6-6:30 pm, we will begin the talent portion of the event where students will perform various talents they have," Kebede said.
But as for Kebede, there is little doubt to what she is most excited for
"The foods will definitely be delicious!" Kebede said.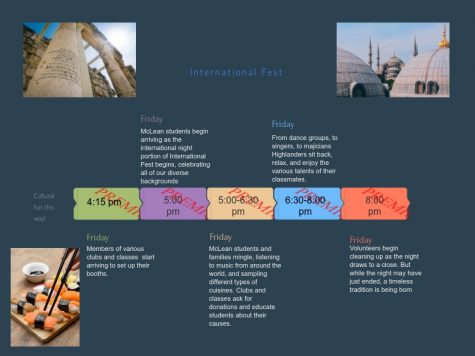 https://my.visme.co/edit/6316e6549f51390012b017aae942fafb/dJxfgQrli68iLDbgaOOI4O9ZLthq80HWFsLHSDMyq-U=#