Work study class performs Nutcracker
Play showcase inspires school community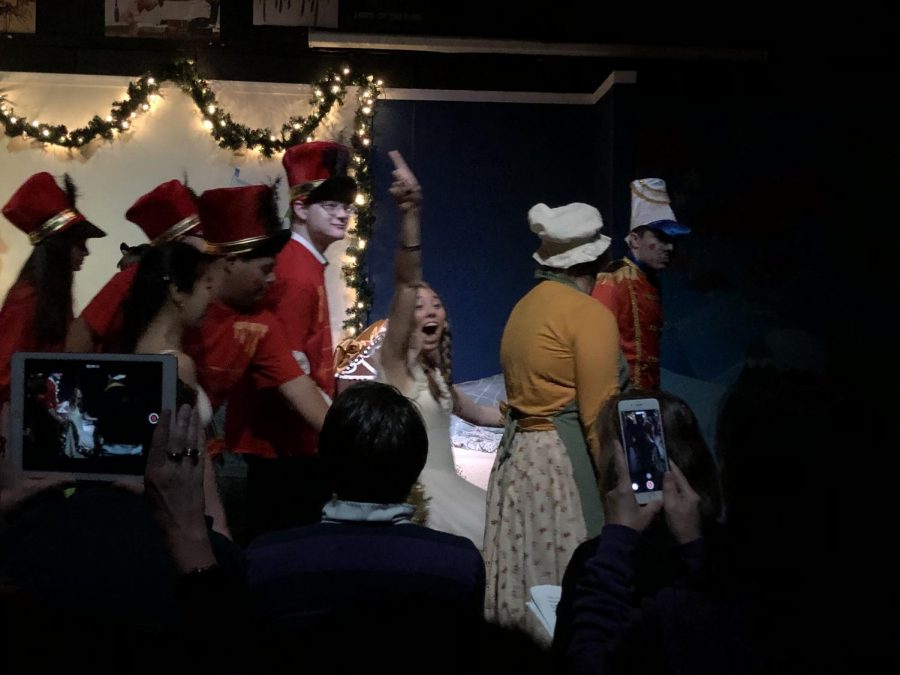 Throughout the course of the past week, McLean's work-study class has been performing a special rendition of The Nutcracker Prince.
The class, which is designed to accommodate students with special needs, has been working on the show since the beginning of the school year. Special education teachers Carolyn Sullivan and John DeMers have worked together, along with other students, parents, and staff, in order for The Nutcracker Prince to come alive. 
 "We started in September getting the script. And so we started practicing it by late September, early October, right around there," Sullivan said, "we had rehearsal every other class period,"
The students put a lot of work into rehearsal and memorizing lines. Among them was Abby Criswell, who played the role of Clara. 
"Whew, we did a dress rehearsal on Monday, and then yesterday we did [ a] performance, so we've been practicing a lot," Criswell said. 
As the days got closer to the first show last Tuesday, the students began to work even harder to make their performance perfect. 
"[They practiced] tremendously, they go home and most of the students just practice and practice and practice. Some of them have a really good feel for what the storyline is about. They really do understand and they [even] look at the little cues within the script," Sullivan said. 
The showings of The Nutcracker Prince have been great successes, with many of the students enjoying their time on stage. 
"If I had to choose one [favorite part], I would choose dancing with the nutcracker," Criswell said.
The students learned a lot through their rendition of The Nutcracker Prince, with their teachers saying that they have gained so much through the process. 
"I would say it's the best speech class they ever had, and they really [had] to [learn to] speak up… we've noticed that they gain a lot of confidence in front of people when they speak now. Even little presentations we do in class, they really speak up better," Sullivan said. 
The process of putting on The Nutcracker Prince required the students to work together, which will impact them in a positive way in the future. 
"One of the skills of any theatrical, is the same as in any sport or any team sport, and that is you learn to work together and you learn that no single person is really the star, and indeed no star can get by without every other person doing his or her job. Everybody has to do everything together," DeMers said. 
Putting on the production became an opportunity for the special education students to come together and create something magical, in an environment that is often competitive and strictly individual.
"School is so individual in so many ways, you get a grade, you do this, you do that, it's almost always one person. Whereas, it's so awesome to take the kids out of that world and put them in a world where we're all in this together," DeMers said. 
According to their teachers, the students were able to work together and collaborate spectacularly. 
"They really have to collaborate. They really have to get along and help each other out. And if you notice on stage, they do help each other out. Too much sometimes," Sullivan said. 
The students were not the only ones who cooperated to bring this project to the stage, others have assisted massively in the production. 
"The National Art Honor Society made the backdrops, Mr. Reid loaned us all those the parlor backdrops that he used for his play," Sullivan said. 
Different departments and people came together which culminated in The Nutcracker Prince. 
"Miss Martin lent us costumes, So it's a school-wide effort and even beyond what you think it is because you know, we don't build it from scratch. We usually go around and borrow a lot," DeMers added. 
"Parents donated things and the PTSA grant gave me almost $700 that we could use for costumes and things like that. We gave some of it to Mr. Dave some for the chair, he made the chair, he does the background and he builds set. And the tech team. I mean, we couldn't do it without Mr. Reid and all the Tech students helping and finding costumes and doing this stuff. They do it just out of the goodness of their hearts, so it's really incredible that they help out that much," Sullivan said. 
The McLean community has truly come together to produce The Nutcracker Prince, and the show was stellar. And of course, our rating is 5/5 stars. The students did an excellent job. 
If you would like to catch the play's last performance, it's not too late! The final showing will take place tomorrow in the Black Box at 7 pm.
"Hoping you guys will be there!" Criswell said.