Varsity volleyball win during Dig Pink event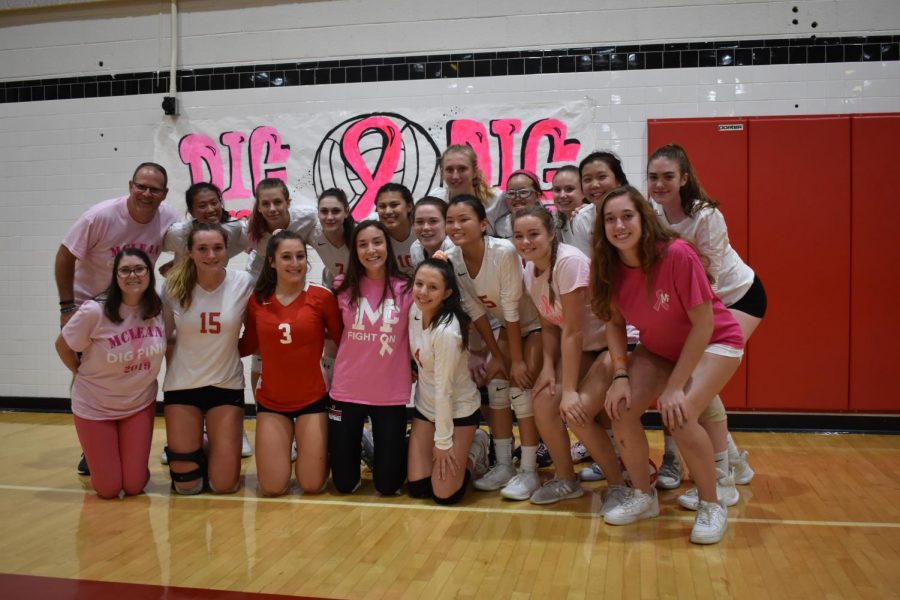 The varsity girls volleyball team played their Dig Pink game against Yorktown High School on Thursday, October 3rd. Going into the game, pressure was high to serve the perfect win. The team raised more than $7,000 for breast cancer research.  
"So we've we played Washington Lee on Tuesday. And they were 2018 district champs. So that was a tough match. lost that one, but played well," varsity volleyball Coach Angela Pubal said. 
However, this loss did not sway the girls' confidence for this game, the girls highly anticipated the game. 
"I'm really excited," senior Marina Wang said "We're pretty like evenly matched with Yorktown. We always play five sets with them. And even though, unfortunately, we lost last year, I'm really excited to go out there and hopefully beat them today." 
With the adrenaline and motivation that came with playing the game, the varsity Girls won three sets out of two against Yorktown. Pubal was very happy with the win. 
"They worked hard. It's tough, like any high school sport," Pubal said. "We wanted this last one…  This was the last team that we played in our district until we play every game everyone a second time again [during regionals]. So this is big. This is a really big win. It's awesome." Pubal said.
coach Pubal speculates that a part of the team's motivation and energy that night was linked to important factor: the audience. 
"Our fan section was awesome today. That is not something that always happens. So that definitely helps us get excited and get into it," Pubal said. 
The games significance did not stop at who they played, but stretched into why they played. This specific event was called Dig Pink, sponsored by the Side-Out Foundation.
"Dig Pink is a chance for the volleyball team to raise money for breast cancer awareness," senior Summer Hensley said. "It's really great because you can like people that come in can make [donations] and we'll announce them and like we recognize a lot of the survivors that are in the audience so it's a really great opportunity just to raise money and support a cause," Hensley said.
Cancer is a chronic illness where cells divide abnormally and destroy body tissue. Because of the severity of the disease, and the large population of people who have had or have cancer, research is needed to find a cure. 
"There's research going towards it. But, there definitely could be a lot more especially with like, the magnitude of cancer affecting other people and their families. So I think any [amount] that we fundraise will be beneficial, no matter how big or small," Wang said. 
The volleyball team came up with different fundraising ideas, and mostly carried them out by themselves. 
"We are selling pink shirts, you can buy them during all lunches for $10, and then we're also selling pink wristbands that you can buy for a dollar," Hensley said. "[It] bring[s] our team and community together to support a cause that's really good." 
Other donation opportunities were also available to those who attended the game last Thursday as well. 
"We have a bake sale today, and all the money from the bake sale goes towards the Side-Out Foundation," Wang said. "We also have a raffle drawing, where we have tickets set at certain prices, and whoever wins a raffle can either choose to take all the money that people have put in or they can win the raffle prize.Generally, people will want to take the raffle prize and donate all the money to the Side-Out Foundation."
The Side-Out Foundation is a coalition of high school volleyball teams to help raise money and awareness to Breast Cancer. 
"All volleyball teams pretty much use Side-Out Foundation. It was created by volleyball coaches,  and a lot of schools hold events to raise money. Dig Pink is one of my favorites," Pubal said. "We go all out, decorate everything, try to raise a ton of money."
The team members went all out for the event, wearing pink on the day of the game, and even dying their hair. 
"One of our girls actually dyed her hair pink for this event. And we also have a freshman coach who always dyes the tips of her hair pink at the beginning of October for this," Hensley said. 
Dig Pink meant a lot to the volleyball team, with some of them knowing people that have been affected by cancer. 
"A girl in our volleyball team. It was her mother and she sadly passed away when I was a freshman," Hensley said. "So the cancer had come back and it sadly taken her life." 
With so many affected by breast cancer, it was a good cause for the volleyball team to raise money for. 
"It's a really great cause, it's close to my heart," Pubal said. "I feel like [everyone's heart is] touched by breast cancer. So it's a big game for us. And it was fun to have that side of things and then pull out a win. It was a perfect combo."