Administrative assistant says goodbye
Lidia Martin will be moving on from her desk to explore the world
Eric Mizusawa, Online News Editor
June 10, 2019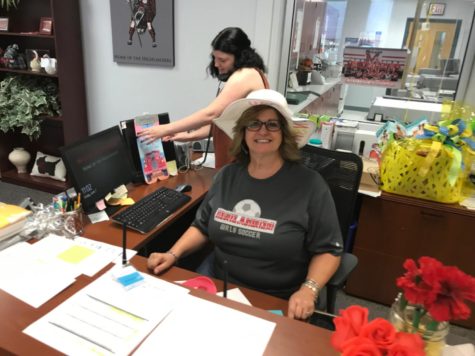 After serving for 10 years and volunteering for three on the McLean staff, administrative assistant Lidia Martin is ready to retire and travel abroad. 
"[As an administrative assistant,] I welcome parents, I direct them to the location they need to go see, I answer questions on the phone for parents and students, and I do the doorbell for security purposes to make sure who's coming in and who's coming out," Martin said. "I started off volunteering, because my daughter and son graduated from McLean High School, and while they were in school here, I decided to volunteer, and the full time position become available for library assistant."
Being the school's administrative assistant, Martin would be the lady sitting at the front desk, and the first person you'd see if you were going to check in at the front door. She has also had experience working in the school's library, however her personality type made her better suited to be an administrative assistant because of how she's a very positive and social person.
"In the library, when the new freshman would come in, [head librarian] Joan McCarthy set up a little program knowing that I was a little loud, and while she talked, I would be up there standing directing where the fiction books are, where the computers are, how to check out a book; our goal was to get more kids in the library," Martin said. "I think I was too loud for the library, so they moved me up to the main office and that's how I started."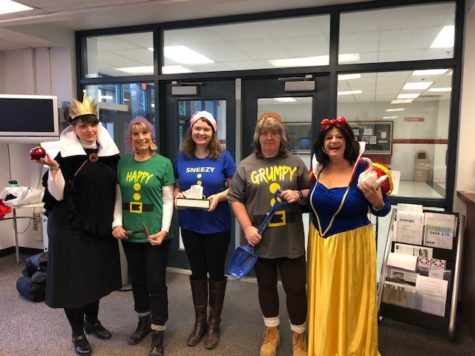 Now that finals have begun, Martin has less than a week of sitting at her desk and attending to others who may need her help. Once she retires, Martin will be able to peruse her dreams of travel, as she has a great passion for experiencing other areas of the world/country and seeing what they have to offer.
"[When I retire, my husband and I will be] selling our house, and our ultimate goal [is] to see the world and the country," Martin said. "My husband and I love to camp, so at the end of June, [we] will be living in a trailer and traveling."
In the end, the experience of working for McLean has been a very rewarding one for Martin, as she was very fond of her coworkers and tried to make the office a welcoming place for new teachers. One of the things that she's learned about herself in her time working here is that it always helps to be a good person, because you never know when you're going to be needed.
"I've got the best job in the world, I knew this is where I belonged with people; everybody at McLean is always here for me, supportive, and I've learned so many things from the start." Martin said. "I got to work with kids, which in any other way I wouldn't have been able to, and everything that I've ever gone through in life, the administrative staff has been there for me; it's been like a family."
Farewell to administrative assistant Lidia Martin!