Terror engulfs DC Pride Parade after reported shooting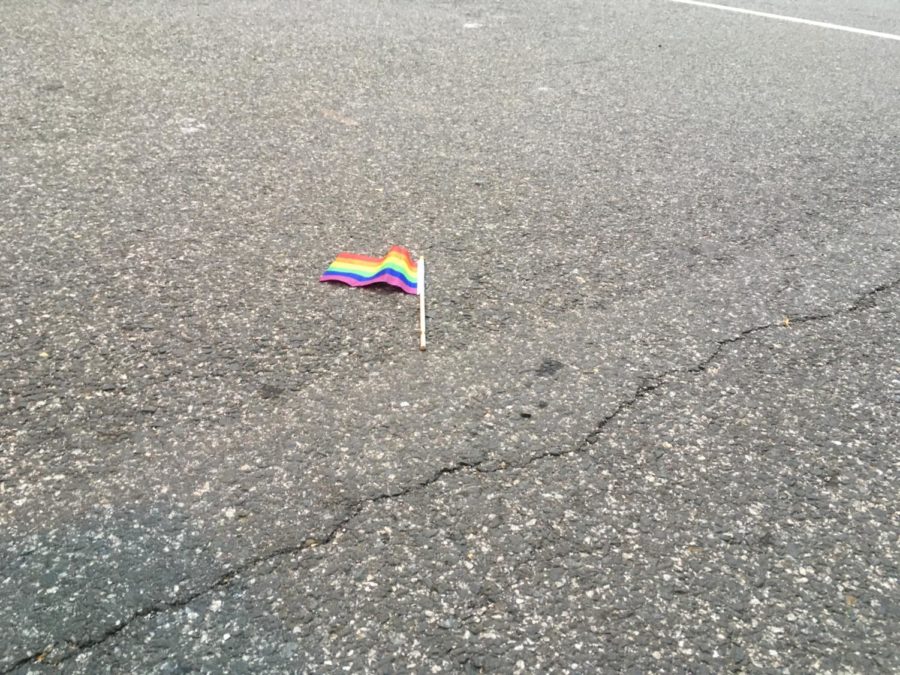 "I'm doing this out of love" an older woman says while she spits on her jacket and wipes the pride flag that I had drawn on my face only hours ago, excited out of the anticipation for this weekend. "I love you, you are going to be ok," She says as she finishes and gives me a hug. People frantically hid their flags and pins in fear of an unfriendly gunmen entering the building and finding us in our full Pride regalia. I sat on the ground next to distressed friends, and was comforted by a Virginia Tech graduate in a conference room at the Cornell University in Washington. This is that story. 
On June 8, 2019 crowds of Pride goers fled DC's annual Capital Pride Parade event. A false alarm of shots fired sent the crowd running this Saturday evening around 7 pm. There have been reports of several people injured, and even a a "threat contained" according to Capital Prides Twitter.
The parade has ended. Be safe. The police is on site and the threat has been contained.

— Capital Pride (@CapitalPrideDC) June 8, 2019
Even after officials, including the Mayor Muriel Bowser, have reported that there was no active shooter, questions still remain. 
#PrideDC: I am being briefed by MPD about the situation at Pride, but please spread the word that there is NO active shooter. https://t.co/5YMBDjU7dJ

— Mayor Muriel Bowser (@MayorBowser) June 9, 2019
What happened
At approximately 7:20 PM EST there were reports of hearing "three or four loud pops" according to many witnesses by the DuPont Circle fountain. 
Just found @tomrousseyABC7 who heard gunshots. pic.twitter.com/URNYF52K6Z

— Victoria Sanchez (@VictoriaSanchez) June 8, 2019
Commander Rivera of MPD's Special Operations Division later confirmed that there was indeed a man with a weapon, however, there was strong evidence to indicate that there were no shots fired. 
Capital Pride Media Briefing:
Commander Rivera of MPD's Special Operations Division pic.twitter.com/idAIQJW5XD

— DC Police Department (@DCPoliceDept) June 9, 2019
Moments later, panic ensued. 
#BREAKING #GayPride in #DC participants run in panic after rumors of shooting spread in the crowd pic.twitter.com/OmKlox3wfj

— Petros Kasfikis (@PetrosKas) June 8, 2019
#DCPride #CapitalPride #shooting Marching in the Gay Pride parade in Washington DC. As my girlfriend and I were walking past Dupont Circle, apparently someone started shooting. I did not hear the shots, but caught the moment of the stampede. People went quickly from smiling, pic.twitter.com/oPQdIrM3dG

— Me (@beingaiden) June 9, 2019
People running away from rumors of active shooter. Not confirmed. Repeat: nothing confirmed yet. Just rumor at this point, but people are on edge. #CapitalPride pic.twitter.com/ZhM8tMwbLV

— John Riley (@JohnAndresRiley) June 8, 2019
Panic at pride. Dozens of people started running from Dupont Circle. I'm trying to find out what happened. @ABC7News pic.twitter.com/mHoDp4X1Gm

— Victoria Sanchez (@VictoriaSanchez) June 8, 2019
Pride goers including myself ran into nearby buildings for safety. Later, other pride volunteers came through to help shocked Pride goers. 
Several students from McLean High School and other schools from Fairfax County were present at Saturdays event. 
We will keep you updated on this story as it progresses.