Convocation sweeps Highlander Nation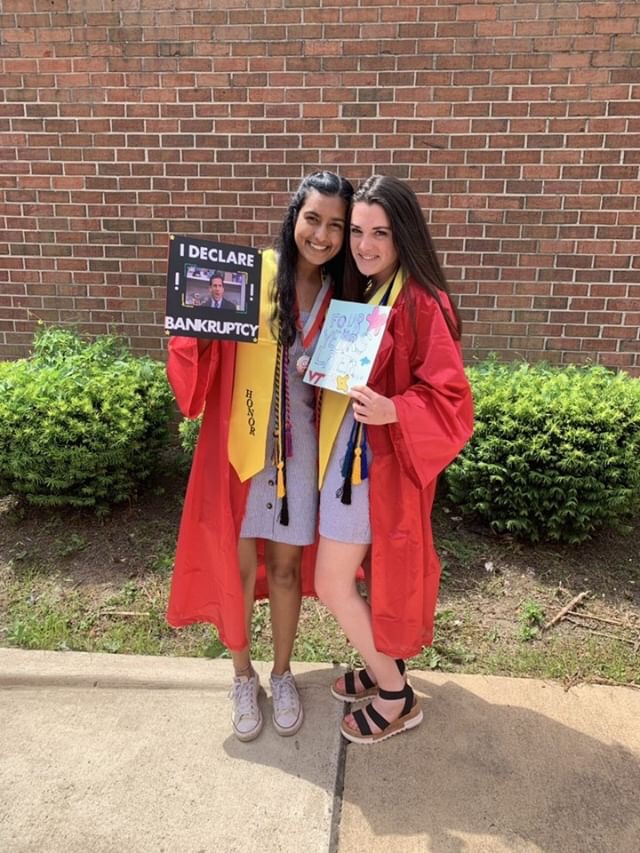 McLean hosted the 2019 Convocation on Thursday, May 30. While it has many similarities to graduation, convocation is an event all its own.
"Convocation is fun for the underclassmen to see all the seniors get their awards and be wearing their caps, to kind of get a taste of what graduation is," senior Ella Sangree said.
Convocation is a formal event- but it also serves as a less formal alternative to graduation. One tradition that goes with convocation is that students are encouraged to decorate their caps. 
"I decorated my cap with some friends and it was really fun to just do something creative with them. We spent a lot of time on it," Sangree said.
Whether it be with college colors or The Office memorabilia, decorating caps can be a fun way for graduates to express their individuality.
"So since the initials of [Columbia University] are CU I put 'CU later' and the school mascot, which is a lion, on it," Sangree said. "I put way too much effort into it."
Convocation consists of the senior processional, several welcoming matters, awards being presented, and several speakers.
"They give out a lot of the awards at convocation. They give out the PTSA awards for each school department, extracurricular awards, and they present all the people going into the military, or ROTC," Sangree said. "At graduation no awards are presented; they just have the speaker and the commencement speech and the whole walk."
The actual ceremony is similar to graduation, just with a less somber atmosphere. Speakers differ, and their speeches are more informal.
"[There's] a staff speaker and student speaker at convocation. At graduation we have a guest speaker and a different student speaker," Sangree said.
Convocation 2019's student speaker was Helen Ganely; the staff speaker was School Resource Officer Scott Davis. Helen Ganely described the experience of high school as a movie, elaborating on the many actors cast in each experience and how it is imperative to thank all that helped bring each story, each high school experience, to this point. Davis' speech was far more informal, but it was definitely popular.
"Officer Davis' speech was super interesting and funny. It was super cool just having him talk to us since he's been with us all four years," Sangree said.
Davis was the first non-academic speaker at McLean in 20 years – and it was evident by his humorous perspective. In less than 10 minutes, he managed to establish his love for the Class of 2019, roast several teachers and Dr. Reilly, and recant a sweet story about his wife. 
Graduation's date looms on Monday, June 3. While it's an exciting time, seniors may feel a bit of trepidation as their independence inches closer.
"It hasn't really hit me yet, that I'm graduating- I think that it won't hit me until right before I leave for college. This last year went by so quickly and I'm sad for it to end, but I'm also really excited for me and all my peers to go off next year and do great things," Sangree said. "I'm excited, but sad because McLean was such a great place."