Five big name NBA free agency rumors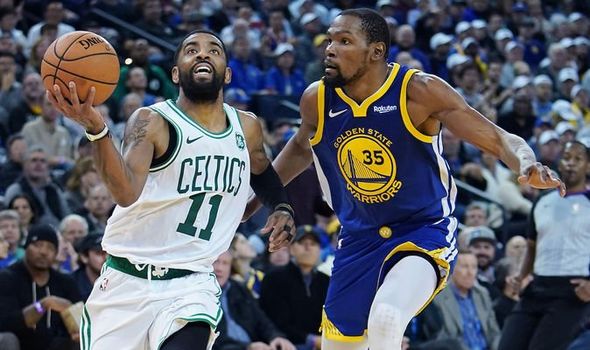 Nicholas Boyer, Reporter
May 31, 2019
Kyrie Irving: This season the Kyrie led Boston Celtics were a disappointment, getting eliminated in the 2nd round of the playoffs. Since the experiment of Kyrie Irving being the leader of a team didn't work out it seems likely that he will not return. Team president Danny Ainge believes they have a good chance of re signing Irving if they can acquire Anthony Davis from the New Orleans pelicans. This seems very unlikely considering that they're have been many rumors that Kyrie has had discussions about playing for the Los Angeles Lakers.
Kevin Durant: The big rumor going around right now is that Durant will opt out of his $31.5 million player option with Golden State and go to the Knicks or the Clippers.  The Knicks rumor is that Kevin Durant and Kyrie Irving we team up in New York and bring a championship to New York. The Clippers rumor is that they can offer Durant a lot of money so he will just take the money and play in L.A. Durant could shock everyone this summer and resign with the Warriors and keep winning Championships.
Kawhi Leonard: When Kawhi Leonard was traded to the Raptors many thought it didn't mean anything, that he was just going to play in Toronto for a season and then go to one of the Los Angeles teams. Now that the Raptors have made it to the NBA finals and have a chance at being champions could he really leave all of that? Regardless he will most likely opt out and get paid this off season.
Jimmy Butler: Let's hope this off season that Jimmy Butler will finally sign with a team that he will be happy with and play with for a long time. The rumor right now is that he is happy with the 76ers and will sign with them. Another is he will try and get a max with another team and team up with another super star.
Kemba Walker: This off season Kemba Walker is eligible for a super max contract with the Charlotte Hornets. The teams that are expected to give him an offer are the Magic, Lakers, Knicks, Pacers, and of course the Charlotte Hornets. The Pacers and Magic would be two of the teams that would be the best fit considering that they need an upgrade in the Point Guard position. The Knicks and Lakers are rumored to go after so many players this free agents that we will just have to wait and see.