First year freshmen experiences
As the school year comes to an end, freshmen reflect on their first year of high school
Rebeka Rafi, Advertising Manager & Features Editor
May 14, 2019
Transitioning from middle school to high school can be a frightening experience. Incoming freshmen have to enter into a totally new environment, deal with extremely crowded halls, new faces, and the worst of all: not a common usage of lockers [insert *gasp*].
Not using your locker in high school might go against what everyone has always pictured about high school and seems to be an initial problem for freshmen.
"At first, I was kind of confused and I didn't know where to put my stuff because people said that they don't use their lockers and I didn't want to be the only person using my locker," freshman Malak Elhaddad said.
Students simply just have difficult with initially adjusting to their new school environment.
"When I first entered high school I was overwhelmed with all the new experiences and I guess I just expected a lot of things to be different," freshman Nicole Chan said.
Navigating the halls can be quite tricky on the first day, especially with all of the students crowding in it when moving from one class to another.
At first, I was terrified because I wasn't sure if I knew how to get to my classes
Lucky for us, MHS does a really good job of helping new students assimilate to our culture. With welcoming upperclassmen, extracurriculars that includes students from all grades, and supportive teachers- high school does not seem like such a scary place after all, to the incoming freshmen.
"Throughout high school, I was introduced to a lot of new friends and people which made me really happy," Chan said.
Often times, rumors and cinematic films can represent high schools in a frightening manner to help build their plot. This depiction, however, seems to influence how rising 9th graders view high school.
"Through what I've been told and through videos/movies I've seen, I always thought that the friend groups were more rigid," Chan said.
Eventually, these students get used to high school and get the opportunity to create new friendships.
"But over time everyone's been really nice and I've grown to like high school more," Chan said.
A very helpful way to adjust to high school seems to be getting involved in extracurriculars. Especially for freshmen, this is the best way to interact with others who are going through the same altering process.
"I did marching band because I'm in symphonic band and that started a month before school, so I was exposed to some of my classmates before school actually started," Chan said. "I was able to ask them any questions and they were able to share helpful tips with me."
Elhaddad claimed that the 8th-grade field trip that her middle school took to MHS helped her get a good idea of what life as a high school student would be like.
"I really enjoyed the field trip because I was able to talk to a lot of different high schoolers and I got to see the different clubs and sports," Elhaddad said.
Overall both freshmen have had a great first-year experience at MHS and are looking forward to sophomore year.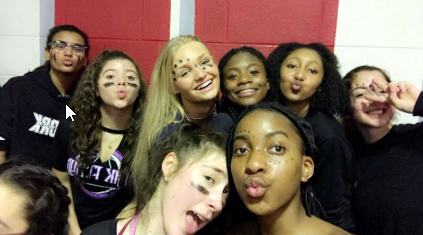 "I have friends in all my classes and I have found it easier to walk around with my backpack," Elhaddad said. "I'm more relaxed now and excited for the other years."
Chan is also excited to be a sophomore next year.
I know that I will have to take on more responsibilities, but I also think that I will have more freedoms and will be able to make a couple more choices on my own.