Hate crime is increasing at an alarming rate
Extremists continue to have a platform with the help of our media and politics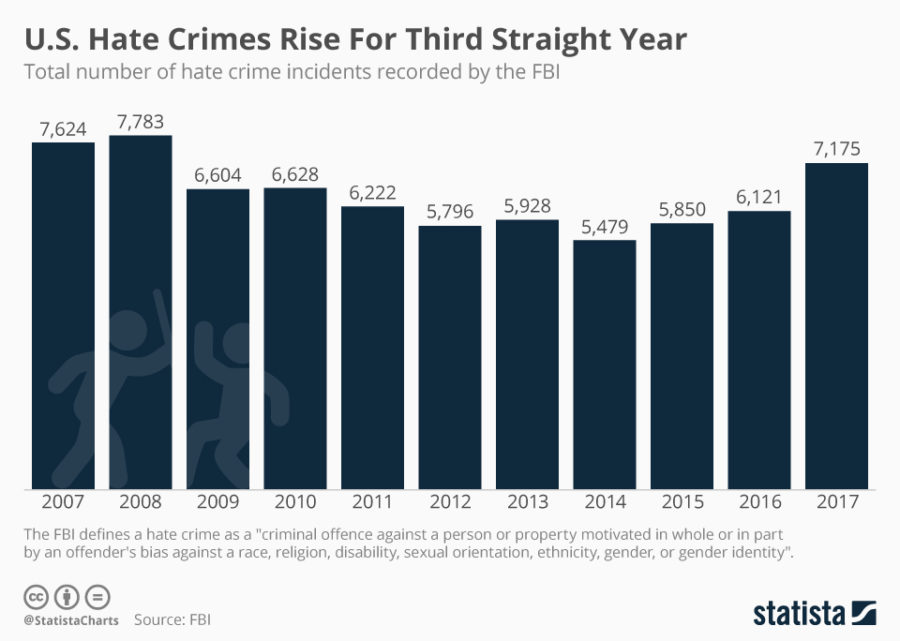 Is it surprising anymore when we hear a new story about a mass shooting in a synagogue, another politician making a racially charged comment, or the alt-right planning to hold a rally? 11 dead at the Pittsburgh synagogue shooting, Mississippi senator Cindy Hyde-Smith said she would sit front row in a public hanging, and Unite the Right marches on Charlottesville and DC. If it's become less and less surprising, there's a reason: hate crimes have been dramatically increasing for three years straight.
In 2017, hate crimes took a substantial 17 percent increase from the year prior. According to the FBI, the majority (59.6 percent) of these hate crimes were racially or ethnically based, another 20.6 percent of the crimes were bias against religion, and 15.8 percent of the 2017 hate crimes were bias against sexual orientation.
While this gives us a sense of what is going on, these numbers aren't completely correct. The actual number of hate crime victims is probably a lot higher than the 8,828 victims the FBI recorded due to the fact that reporting hate crimes to the FBI is currently voluntary. Of all the police agencies that sent their data in, 87% of them reported that their city had zero hate crimes — something that seems too good to be true.
Even though we don't know the true number of hate crimes, we do know that they are increasing and that there are two major reasons why: our media and our politics continue to give hate speech a platform.
"White supremacist recruiting is on the rise," said the head of the Anti-Defamation League, Jonathan Greenblatt, in an interview with the New York Times. "They're [recruiting] overtly… And they're doing it even more flamboyantly and more openly online — in their chat rooms, on their discussion boards, on their subreddits, they are energized by the fact that their talking points and their rhetoric has moved from the margins into the mainstream and is now being parroted by politicians at the highest levels."
It has become easier for hateful commentary to reach a vast audience. Unite the Right members chatted on an app called Discord to plan out carpools and figure out which hotels they should stay at so they could attend the Charlottesville rally. The mass shooter at the Tree of Life synagogue used an app called Gab to post his anti-semitic and anti-immigrant rants.
Our politicians also aren't pushing hard enough to stop hate crimes either, infact, some are spurring hate groups on. According to the Center for the Study of Hate & Extremism, hate crimes increase during every presidential election year. Negative rhetoric from our politicians during widely watched debates and passive tones from our president every time a major act of hatred happens is not acceptable action, especially during a time when hate crime only seems to be on the rise.
Check out the hate map of the United States: https://www.splcenter.org/hate-map