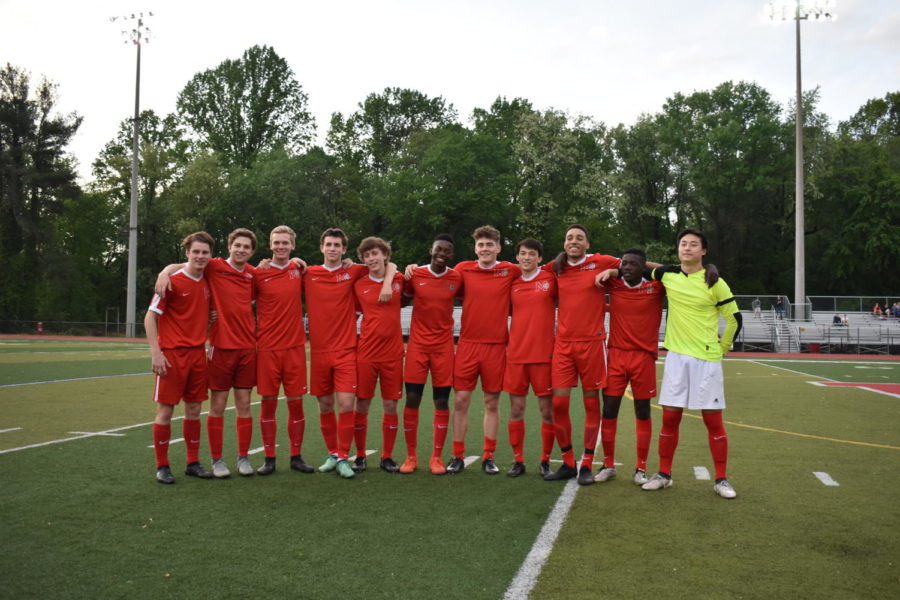 Ava Rotondo
The boys varsity soccer team had their senior night. Eleven senior players walked out onto the field and were celebrated by their teammates, parents and fellow students. The senior players were escorted out onto the field by family members. As they walked out, they received roses and greeted all of their coaches in a line.
For the players, the night was a mix of emotions. Saying goodbye to the team and teammates they've known for so long and have gotten to know so well was hard, but what was worse for goalkeeper Jinkwon Song was the fact that the end score was 3-3, a tie with Herndon High School's Varsity team.
"[We were all a] little frustrated," Song said. "We just wanted a win."
A win for the senior night game would have been nice, but there are three more games left in the season for the team to redeem their honor. Song has a technique that he learned throughout his career on McLean soccer.
"[I have] to be loud and try to be confident when in goal because that makes the whole team's confidence go up," Song said.
All of his teammates have learned more about the sport of soccer, as well as camaraderie and teamwork. It is hard to extract the single best parts of their time playing together because the tight-knit group has had so many experiences together.
"[I] just [love] having fun while training with the team," Song said. "[It's great] getting hyped up after a win."
After a successful, impactful and enjoyable McLean Varsity soccer experience, Song is going to Pennsylvania State University to study sports business.
Even if he doesn't continue playing the sport, Song will still be able to study the business of soccer and learn about it from a different perspective. After all, that's the entire purpose of playing with a team: being able to meet players with different perspectives and come together to accomplish goals.