The Lego Movie 2 : The Second Part hits theaters with a bang
The sequel to the Lego Movie has been well received by critics and fans alike.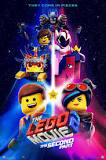 Hang on for a minute...we're trying to find some more stories you might like.
After the hit original movie The Lego Movie which favored well with both critics and watchers receiving a 95 % on Rotten Tomatoes and 7.8/10 on IMDb, Warner Bros. made a sequel which released in the United States on February 8th, 2019. Centered on the cliffhanger of the first movie, the citizens of Bricksburg face an outside threat of invaders from outer space controlled in reality by a little girl and her big brother arguing over the lego set. 
The movie boasts a star-studded cast, including voiceovers from Chris Pratt, Elizabeth Banks and more. The plot set for a fast-tempo, light-hearted, and overall adventure packed atmosphere for Emmit as he and his friends attempt to fend off the invaders and unite peace between the worlds.
As the movie progresses, the story only gets more complex with numerous cameos from our favorite superheroes and celebrities including Superman, Batman, and even Gandalf. With numerous surprising twists and possible cliffhangers, the movie portrays the overlying theme of sticking to your true identity and not changing for someone else. 
Another student who saw the movie loved the introduction of famous characters and the overall theme of the movie as well. 
"I thought they did a really good job of introducing the famous movie characters and I liked the theme of staying true to yourself but at times it was a little cheesy," junior Charles Gartner said.
Many felt the same way about the movie with The Lego Movie 2: The Second Part maintaining the number one spot in box office for numerous weeks despite falling short of opening box office predictions with a 34.4 million in its opening weekend. 
Overall, I thoroughly enjoyed the movie and the detailed work in animations displays the amount of effort Warner Bros. put into this movie as a whole. As a family friendly movie, the work conveys an important theme of growing up and sticking to one's identity, thus making it a worthwhile film for all to watch.