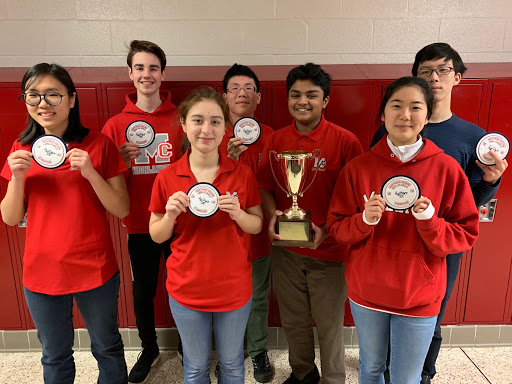 On January 19th, McLean's bright, accomplished Quiz Bowl team participated in the regionals championship at Madison High School. The participants were Justin Young, Janna Serrao, Nathan McCarley, Eunkyoon Lee, Nischal Dinesh, Grace Chung, and Tiara Allard. Allard, a junior, believes that this success was not unexpected.
"We've been pretty successful in the past," Allard said. "We were expecting to win."
Of course, before their recent win at regionals, the team has been practicing and learning as much as possible in order to do their very best, both at school and outside of it. Quiz Bowl team meetings take place on Wednesdays after school, and each lasts for about an hour.
"I study several hours each week, in addition to attending our weekly practice," junior Justin Young said.
Not just practice is required for the team to participate. There is planning and funding that are also required to bring the team to competitions so they can advance in the ranks.
"I am the treasurer of this club," Allard said. " I help manage the money and fundraisers, since tournaments are pretty costly."
Even with all of the time and capital that goes into the club, unfortunately there are not as many opportunities for the team to take part in their trivia tests as they would like.
"Tournaments aren't very regular, and not everyone goes to every possible tournament," Allard said.
Despite the setbacks that expensive trips and extensive planning pose, the team loves participating in this enriching, team-based club.
"I find that the teamwork and camaraderie that our team develops through this activity to be special, because it helps us to get to know one another through shared interests," Young said. "I enjoy the fact that we have made much progress in the past three years, from struggling to fill seats for competitions to tying for 32nd place at a national championship and back-to-back runner-up finishes at the VHSL Scholastic Bowl state championship."
Each tournament lasts for about a full school day. There is a lot of trivia packed into a short period of time, but the team members never get tired of it.
"I love being able to learn about things that interest me, since Quiz Bowl includes trivia about a lot of different subjects," Allard said.
In fact, each member has a "specialty" topic that they know most about, so that they can divide and conquer the trivia and delve into subjects that interest them most.
"The more people we have, the more we can each 'specialize,' or get really good at, a single topic," Allard said. "My specialty is Mythology, and I think that it's really cool that I'm able to apply my [uncommon] knowledge somewhere."
If you are interested in experiencing more trivia, or would like to go see our incredible team compete again soon, be sure to attend the Super-Regionals at Robinson Secondary School on February 2. The team then travels to the College of William and Mary for the State Championship on February 24. If you are unable to travel, be sure to walk past the trophy case in the yellow hall, where the Quiz Bowl team has an award on display.
Even with all of their success, the team remains humble and keeps a winner's mindset before going into every trivia competition.
"We have been successful since the season of 2016–2017, and have won the regional tournament since then," Young said. "Because the competition is always tough, we go in prepared to give our best effort, without taking victory for granted."
This winner's mindset is a spark for each trivia mastermind that keeps them exploring and overcoming the challenges of preparation work and travel time to competitions.
"There's this thrill in racing others to the buzzer," Allard said.
At the end of it all, it is the adrenaline of competition that makes it all worthwhile.