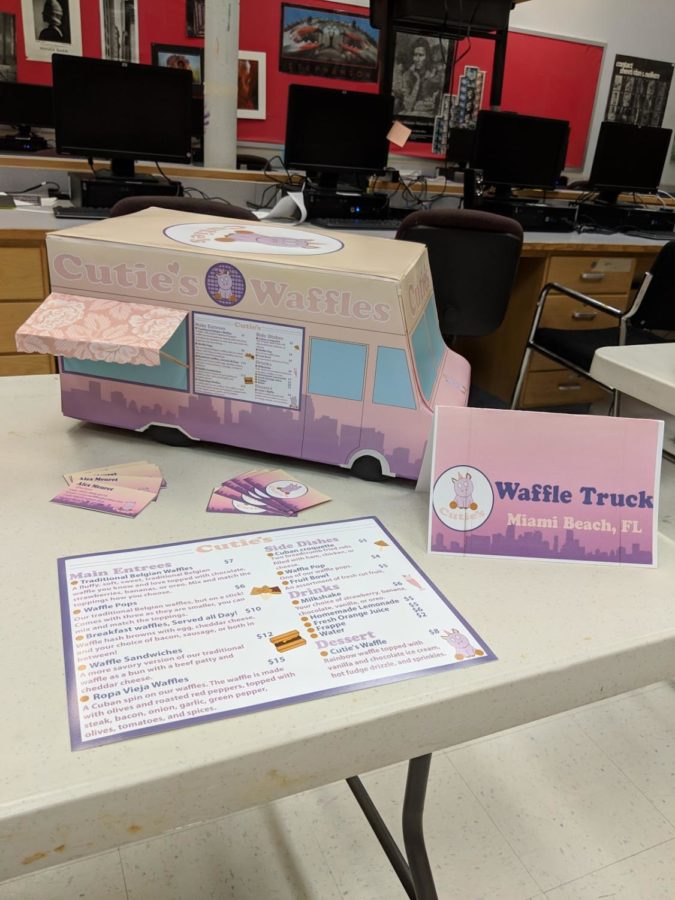 Jennifer Jensen
For the entire first semester of school, Digital Art 2 students spent their classes creating a food truck business, a project that incorporated blended learning. Students were randomly assigned all the details of their truck by spinning digital wheels that decided the location, food type and style of their truck.
After the wheels of fortune were spun, students used their geography skills to research their assigned location and gain an understanding of their location from the type of currency used, to population, to dietary restrictions that may be present. When the research was done they started to bring their businesses to life by creating the truck design, logo, menus and business cards, enhancing their business, marketing and even language skills.
"[I] had one student translate his entire menu to Spanish," Computer Graphics teacher Jennifer Jensen said. 
The fun then started and the students' art, technology, math and engineering skills were brought out to create their papier-mâché and cardboard food trucks, which didn't turn out to be as exciting as some hoped.
"It was really frustrating; we were just cutting out cardboard," Digital Art 2 student Alexandria Meuret said. 
After all the struggling was said and done, months of hard work was finally put to good use with a food truck festival on Jan. 24. Students displayed their trucks, menus and business cards and brought in food from their food truck to celebrate everyone's accomplishments.
"There was a point when I think most of the class was thinking, 'Are we even going to finish this?' They did–and the results were amazing," Jensen said.  
Students were pleased with the end results of their hard work.
"[This is] something I put a lot of time and effort into and it came out really nice. Despite having frustrations, I'm proud of it and happy I stuck with it," Meuret said.  
All this time spent creating something cool, but why food trucks?
"Food trucks were chosen because they are a really trendy thing in today's world. We see them everywhere now," Jensen said. Food trucks have gained popularity through TV shows like Food Network's The Great Food Truck Race and Gordon Ramsay's 24 Hours to Hell and Back. 
"I wanted them to make something practical… it's rare that they ever see a physical thing come to life," Jensen said. "This gave students the opportunity to see that graphic design is all around us, we just never take the time to notice. It's on our cereal boxes, our clothing, our menus and, yes, even on food trucks we grab a bite from."