Special Education program performs A Christmas Carol
Successful showings of the work study theatre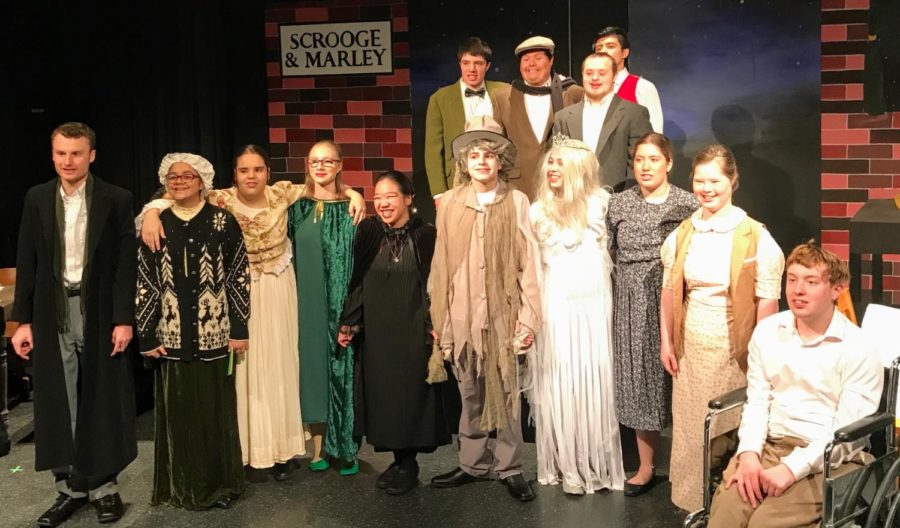 Coinciding with the 175th anniversary of A Christmas Carol by Charles Dickens, the work study theatre at McLean performed an adapted version of the play in the black box theater Dec. 11-14.
"This is probably the ultimate Christmas story, combining the true spirit of the season with an important message about being kind and generous," Director and Special Education Teacher Jessica Berns said. "We might all have a little Scrooge in us once in a while, but after seeing this play performed by our kids, you will join Ebenezer in 'keeping Christmas all the year.'"
After successful showings of "How the Grinch Stole Christmas" and "Aladdin" during the last school year, Berns and co-teacher Caroline Sumlin have continued to direct these productions.
"I think it is amazing to see what our students can do when we give them opportunities like this! Our cast is made up of pure heart and it is so much fun seeing them all come together and put on these performances," Berns said. "I love how the students are able to display their strengths when we put them in a position to succeed! I feel very fortunate to work with some pretty talented students/ actors who inspire me every day."
Berns participated in the Best Buddies program at her high school and began working at McLean in the special education program four years ago, after graduating from James Madison University.
"I was a teacher's assistant to the Special Education Transition teacher and saw what a difference she was making. I knew this would be an extremely rewarding field and decided that I wanted to take that same path when I went to college." Berns said.
The special education program has been rehearsing since September to practice their lines. With two daytime and two evening performances, the black box theatre was filled with eager audiences.
"The plays are important because they give our Buddies a chance to be as crazy as they want with a bit of professionalism. It's a great experience!" junior and Best Buddies president Maggie Campion said.
Junior President of the best buddies program, Maggie Campion has participated since attending Longfellow Middle School.
"My 8th grade gym teacher and freshman year volleyball coach, Mrs. Hudson, inspired me to join!" Campion said. "I have been around people with IDDs since I was about 4, but Mrs. Hudson was that final push to join!"
Other students also have similar stories, senior and treasurer of best buddies Connor Carroll first got involved when senior Ben Shue and him were in first grade together.
"It has been awesome being with him since kindergarten and watching him grow up," Carroll said. 
Theatre students and Best Buddies members help during the plays to ensure they run smoothly.
"I loved seeing all the kids shine when they got on stage!" Berns said. "What made this performance so special was that the audience, the teachers, and the students all joined together in support of this program."