The new Spider-Man webs the hearts of many
Spider-Man: Into the Spider-Verse might just be the best superhero movie of the year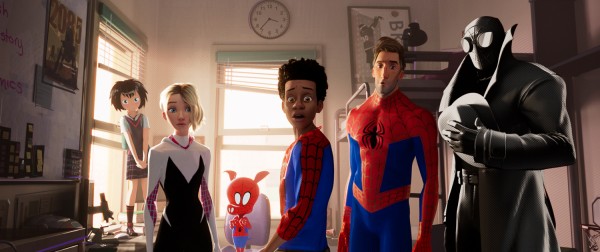 Hang on for a minute...we're trying to find some more stories you might like.
You may ask, aren't there enough Spider-Man movies already? Since 2002 we have had six Spider-Man movies, haven't we had enough? I'm here to inform you: apparently not. With an 8.8 on IMDb, a 97 percent on Rotten Tomatoes and an 85 percent on Metacritic, Spider-Man: Into the Spider-Verse has become the highest rated Spider-Man movie of all time.
With amazing pop art, cartoon and comic-style animations, Sony Pictures Animation outdid itself by bringing the feel of vintage comics to life. With eye-catching colors that seem to be popping out of the screen, a basket full of easter eggs, a heartwarming cameo and tribute to Stan Lee and a normalized diversity that really pushes the theme that anyone could be Spider-Man, the movie opens itself to a wide-ranging audience. Spiderman: Into the Spider-Verse cleans the slate and starts afresh with a completely new take on the old, yet friendly neighborhood Spider-Man we've grown to love.
The story centers around a young boy named Miles Morales (voiced by Shameik Moore) who is born to an African American father working in the NYPD and a Puerto Rican mother who spends her time-saving lives as a nurse. Raised in a home with parents who put service before self, Morales already has superhero characteristics.
Morales finds himself in a prep academy after he wins the lottery where he lives in a dorm away from his family, wears a school uniform and is completely taken out of his comfort zone. After sneaking out one night to visit his favorite Uncle Aaron, Morales paints a masterpiece in the tunnels of the subway, gets bitten by a genetically modified spider and wakes up feeling a tad different.
With his life turned upside down and with newfound superpowers resembling those of Spider-Man, his life only changes more dramatically from there as a tear in the space-time continuum causes all other Spider-People to enter into his dimension.
With perhaps one of the best soundtracks of the year, some of the greatest animation I've seen and a great storyline that makes it different from any another Spider-Man, Into the Spider-Verse is a must see. It's a story about choices, love and loss, and taking a leap of faith to unlock your true potential. Run, don't walk, to the theaters to see Into the Spider-Verse.
A+