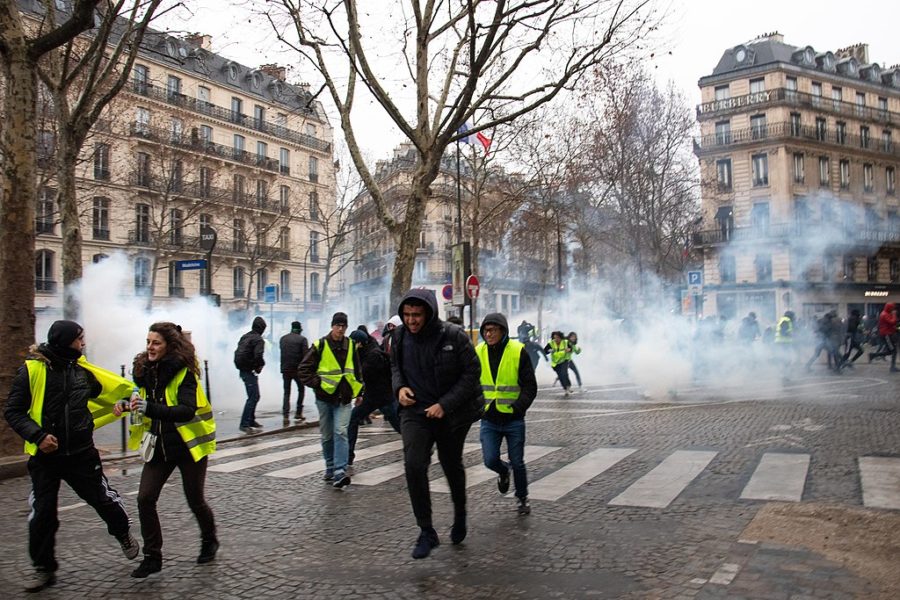 Olivier Ortelpa
The "gilets jaunes" (yellow vests) are a group of violent protesters in France who have been rioting across Paris since Nov. 18. 
According to NBC news, these rather violent protests began shortly after President Emmanuel Macron confirmed the increase in tax for diesel fuel, as a means of stabilizing France's financial repertoire to contribute to solving the climate change issue. This outraged the low-class working families of France as well as French citizens living in rural or suburban regions who use cars on a daily basis.
On Nov. 17, the movement gained 282,000 people in all of France, and a week after, another 166,000 people, as reported by the French newspaper le figaro.
The protests have been extremely violent and have resulted in extreme damages.
"The protests are not usually this extreme…in that most protests in France do not become violent. The violence was what was so different and shocking," French teacher Michael Click said.
Le Parisien newspaper reported that 50 vehicles had been burnt in Paris alone and businesses are being severely vandalized and some are even getting looted.
"I think that the yellow vest protests are pretty ironic, because they are causing more problems by going on these protests," freshman Hyunsoo Jung said.
The French government, after the start of the protests, has since agreed to cancel the fuel tax increase and has fixed electricity and gas prices as well for the upcoming new year.
"The history of protests in France is that it works, so that's why the French do it," Click said.