Mud and glory
Nike Cross Regionals Southeast take Cary, NC by storm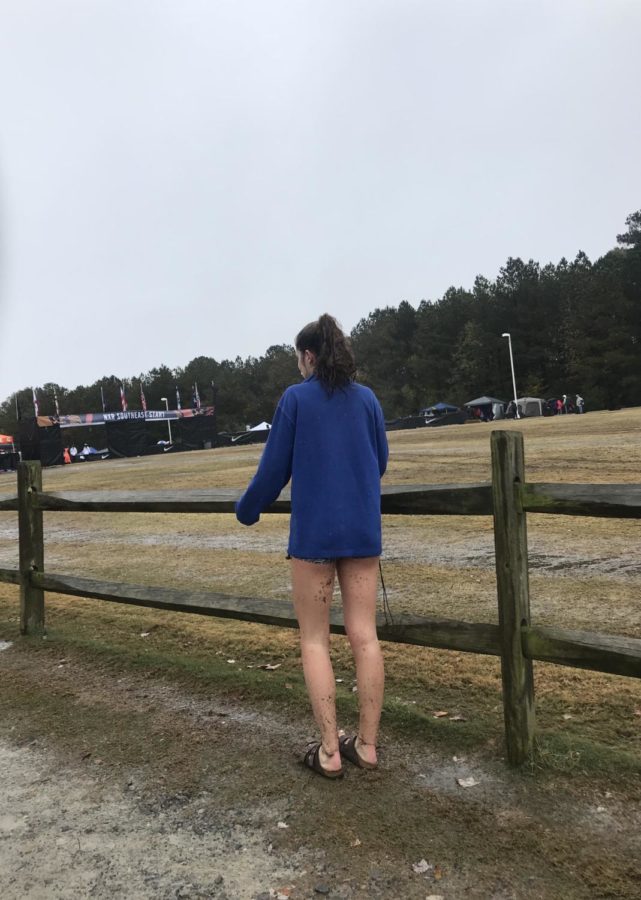 As torrential rains muddied the course and low temperatures revealed fog after each breath, athletes took their mark at the Nike Cross Regionals Southeast on Nov. 24 in Cary, NC. While a qualifying time was not required for participation in the race, not many besides senior Caroline Howley had the determination to continue running after the close of the regular cross country season. Howley was the only McLean runner to attend the race.
"The meet is usually a pretty fast course but this year it was super cold and rainy. It was the last race of the day so it was essentially one gigantic mud puddle. My legs and arms were numb before the race even started," Howley said. "[These were] hands down the worst conditions I've ever raced in, so I'm just glad to have finished," Howley said.
Howley approached the Regionals race as a final farewell after four years of McLean cross country, even if the conditions did not match her expectations.
"[It] definitely wasn't what I had hoped for performance-wise in my last cross country meet, but I enjoyed myself and I'm still coming to learn that that's all that really matters," Howley said.
Howley faced many complications during her senior season, including being hit by a deer during one of her races. Her mother, Clarissa Cullers, expresses her admiration for her daughter's drive to push through adversity.
"She had a season of setbacks, but [she] still pushed herself to go to the line and do her best. These last six months she has persevered, trained through pain, and through it all, [she has] maintained a sunny, optimistic attitude. It would be easy for her to walk away from the sport she loves, but she is determined to finish strong, on her terms, giving it her all, even when it is hard," Cullers said.
Cross country head coach Megan Ney also says that while the conditions were unfavorable, Howley still pushed herself and remained focused, a characteristic she has seen in Howley since freshman year.
"The meet was incredibly cold and wet, and Caroline competed to the best of her ability after coming back from so many setbacks this season," Ney said. "From freshman to senior year, Caroline [has] showed improvement in her resilience, effort, leadership, and times … As she has grown, Caroline is willing to push herself past anyone and through pain to achieve her goals and make each workout count. She is much stronger physically and mentally and can bounce back from difficult workouts and meets more easily."
Despite these unfortunate circumstances, the Nike Cross Regionals Southeast meet was an opportunity for Howley to showcase her determination and commitment to her sport. Howley contends that an athlete cannot always expect perfection, and she encourages others to pursue their sport at their own pace, disregarding obstacles.
"For any runner out there the best advice I have is to run your own race," Howley said. "Sometimes we have bad days and given that running is so quantitative, it makes it really easy to get down on yourself and compare yourself to others, so it's really important to remember that it's just one race, and you can only perform to the best of your ability. Don't worry about anyone else."