Bring back the old Black Eyed Peas
The Black Eyed Peas did not meet expectations with the release of their new album "Masters of the Sun"
Rebeka Rafi, Advertising Manager & Features Editor
November 11, 2018
After eight years of dormancy, the greatest pop band of the 2000's released their new album Masters of the Sun on Oct. 26, but this time around they are lacking their key female lead singer, Fergie.
Loyal fans of the Black Eyed Peas (BEP) have been waiting for the moment where BEP would come back with another hit album following The Beginning in 2010. Despite the irony of their last album title because the band broke up shortly after, resulting with "the end" of BEP, awaiting fans everywhere finally were able to witness 12 new BEP songs of Masters of the Sun. But the question is: was it really worth the wait?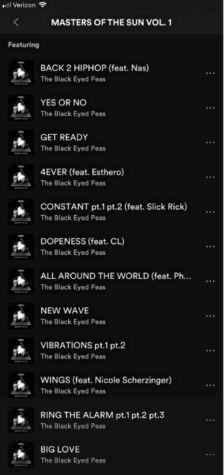 Back in the day, when Fergie was a part of BEP, the Grammy award-winning band easily gained a following of people from all ages due to their upbeat, danceable music, and with the spread of positive messages demonstrated in their earlier hit "Where is the Love?" with the intentions of promoting peace throughout the world.
But eight years later, the band only consists of Will.I.Am, Adl.De.Ap, and Taboo and I am unimpressed with what they have created in their new album. After eight whole agonizing years without the band's "funkafied" music and positive themes, I was very excited to hear what they would be able to come up with to appease patient fans everywhere.
There were so many opportunities to elevate their new release of songs by speeding up the tempo or putting together a better rhythm. Most of the newly released songs consist of the band members' monotonically delivering their rhymes to a basic beat.
The group has become dramatically different without the wide range vocals of their ex-lead singer Fergie. She added an exciting element to the group and really harmonized well with the mellowness of the other men in the group. "Imma Be" patiently waiting until BEP convinces Fergie to rejoin the band.
Without her, their songs simply consist of three men's vocals that are similar sounding while they rap individually to their verses. A majority of their new songs sound alike and eventually get boring. This band used to be known for producing chart-toppers that would make you want to instantly sing along with the words, but now there is no excitement within their new songs.
Although the album as a whole was not satisfactory, I did approve of two of their songs, "YES OR NO" and "BIG LOVE." Both of these songs did have an acceptable rhythmic beat and incorporated powerful messages.
In "YES OR NO" BEP advocates for social change by rallying up viewers to vote in the midterm elections. The band implies that each and every one of us is either fighting for change or is a part of the problem when Will.I.Am raps the lyrics "You're either fixing it or breaking it, taking it or making it… You're either leading or you're following," he aimed to gain more support to help fight for social change. 
The music video consists of an Instagram feed showcasing controversial and social injustices that we have faced as a nation within the past year. Clips of war, poverty, police brutality, and of people such as Brett Kavanaugh, and Donald Trump made appearances within the video. Overall, BEP strived to promote social and political change through the production of this song and "I Gotta Feeling" that they have successfully grabbed the attention of millions of people everywhere.
The song that already has over eight million views is "BIG LOVE" really representing the purpose of BEP, to promote and spread peace and love throughout the world. This song is a sequel to "Where is the Love" released in 2003 and continues to appeal to the emotions of fans everywhere in order to encourage unity.
This incredible song does the impossible and covers pressing current issues that we as a nation face. The band has incorporated current affairs regarding recent school shootings, Trump's administration, the separation of immigrant families, and many more.
Our nation was in desperate need for such a song and the spread of its message, especially at a time where our world is full of violence and social injustice.
BEP has partnered with two major nonprofits: Families Belong Together and March for Our Lives. Profits received from this song will be donated to these influential organizations, which really emphasizes their character as individuals; it is truly inspirational to see a pop band use their platform and media attention to promote such influential changes and to support these newly formed nonprofits.
The band has gained my respect as far as the messages they are trying to spread with their music, but they released mainly unfulfilling songs after a long eight-year waiting period.
They are missing is their ex-lead singer Fergie, and without her, the band simply isn't the same. Her presence is missed, especially for the fans that have stuck with the group from the early 2000s.
Overall, their new album deserves a two and a half star rating (out of five) for missing their star singer Fergie and for taking a dive in their quality of music. However, the humanitarian theme within their music truly reveals that it is "The Time" for needed changes in our nation.
Letter Grade Rating: C+