Rooney helps D.C. United attain a playoff berth
The Englishman's arrival has propelled a team that was sitting last in the MLS to a unlikely playoff berth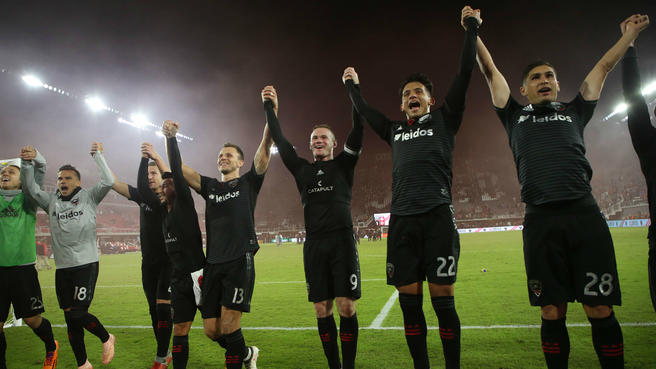 From last place to a playoff berth, with the aid of a 10-match unbeaten win streak, Washington's soccer team D.C. United will compete in the playoffs for the Major League Soccer(MLS) cup. Much of the rejuvenated play can be attributed to good coaching, the play of the players, etc. But no one deserves more credit than Wayne Rooney, a soccer legend who arrived to the team halfway through the season in June of 2018.
"He is a leader on and off the field because of his experiences in the competitive Premier League. I think as the captain of D.C. United, he is a good influence on all the players," junior Henry Polk said.
Coming over from the elite European leagues, Rooney brought credibility, leadership and a sense of energy to a team and fan base which desperately needed a spark. Sitting in last place having 2 wins in 14 games, the team experienced a significant turnaround, winning 12 of their next 19 games.
"The team looks more coordinated,  they are playing more as a team and they look like they trust each other more than before," junior Ened Lame said.
In terms of statistical contribution, Rooney has lived up to the hype, scoring 12 goals and having 7 assists in 19 games.
"Rooney has always been a great leader for whichever team he plays for. He just carried that aspect to D.C. United and has made the team much more energetic in the meantime," junior Seth Eshraghi said.
The team's combination of youngsters and veterans have allowed for offensive creativity and a solid defensive front, overall resulting in a balanced team that many experts believe are capable of making a deep run in the playoffs. For a team that hasn't made the playoffs since 2016, fans of the team have once again a reason to follow the team's journey to the cup.
D.C. United will host Columbus Crew SC on Thursday, Nov. 1st.