Colleges That Change Lives Visit Mclean
18 colleges present information on liberal arts colleges for students at lunch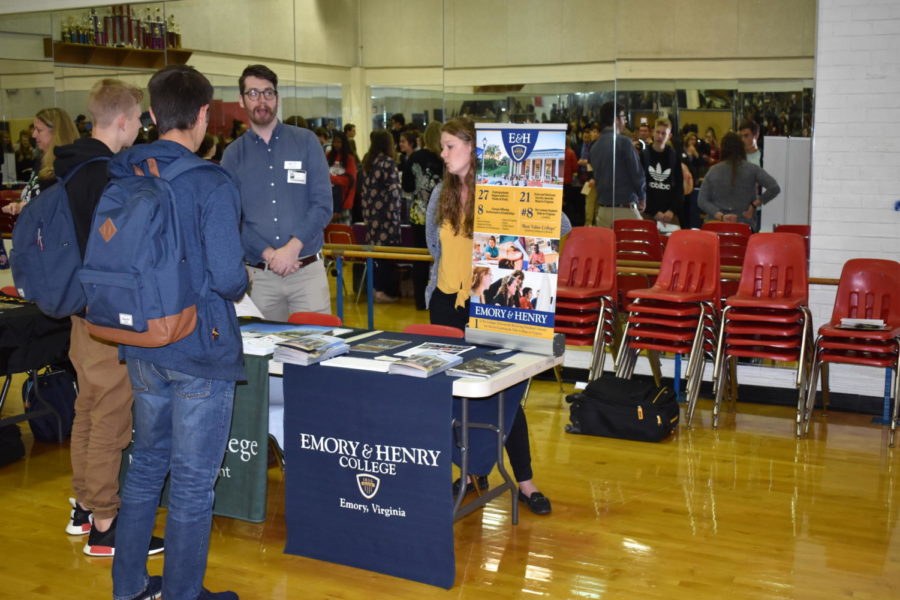 Student Services held a Colleges That Change Lives Fair for all students during all lunches on Tuesday, October.16
"This is actually our second annual Colleges That Changes Lives event and Colleges That Change Lives is actually a coalition of 40 schools in the United States," counselor Brook Dalrymple said.
In fact, they even made some improvements from last year's fair.
"Last year we noticed that students weren't as prepared in going in to the fair and talking with the admission representatives, so we put together this half sheet with sample questions and we actually asked the representatives 'what is your favorite question that you get asked' and then compiled these 18 questions," Dalrymple said. 
This event was created to help broaden students' minds about the college application process.
"We find that there's a lot of stress on the college application process and by introducing some new schools we're allowing for students to…make college not about 'I hope my GPA is good enough for this school', but looking at 'I'm really excited to apply to this school because it's going to be a good fit for who I am as a person,'" Dalrymple said. 
Colleges That Change Lives is a unique program and was created by Loren Pope.
"What's really unique about these 40 schools is that they're very formative in the development of students' character and, really, their statistics when you compare them to the top 25 schools that you've heard of are right at that same level," Dalrymple said. 
Amy Hayes, one of the Birmingham-Southern College representatives, described why she felt this program was useful to students. 
"I think there's a lot of pressure for students to choose brand name colleges that they've heard of and they have friends who've gone there and some schools get overlooked because they are lesser known," Hayes said.
 Hayes described an advantage to this program.
"I often challenge students to think about what they like about high school and sometimes that's hard to think about, but oftentimes what students like about high school are some of their teachers and the relationships they have with them. So [I] often challenge them to think about is that going to be carried into the college experience," Hayes said.
Ryan Stratton, one of the Marlboro College representatives, described something he enjoys about the program and even some of the advice he likes to give students. 
"It's an interesting time, high school, when you're trying to figure out 'what am I going to do when I'm older [and] what are my next four years going to look like'. It can be pretty exciting for them and it's kind of fun to see students at that stage and give them a little advice. Don't be too worried about knowing what it is you want to study or major in and try to sample different fields that maybe you didn't like in high school [but] maybe at college level they'll look different," Stratton said.
Junior Cassidy Blake, who attended the fair, felt it was helpful to her.
"I got to learn a lot more things about each school and how the process [works] and [it] just makes the process easier," Blake said.