McLean starts the fire
Leadership hosts bonfire in preparation for Homecoming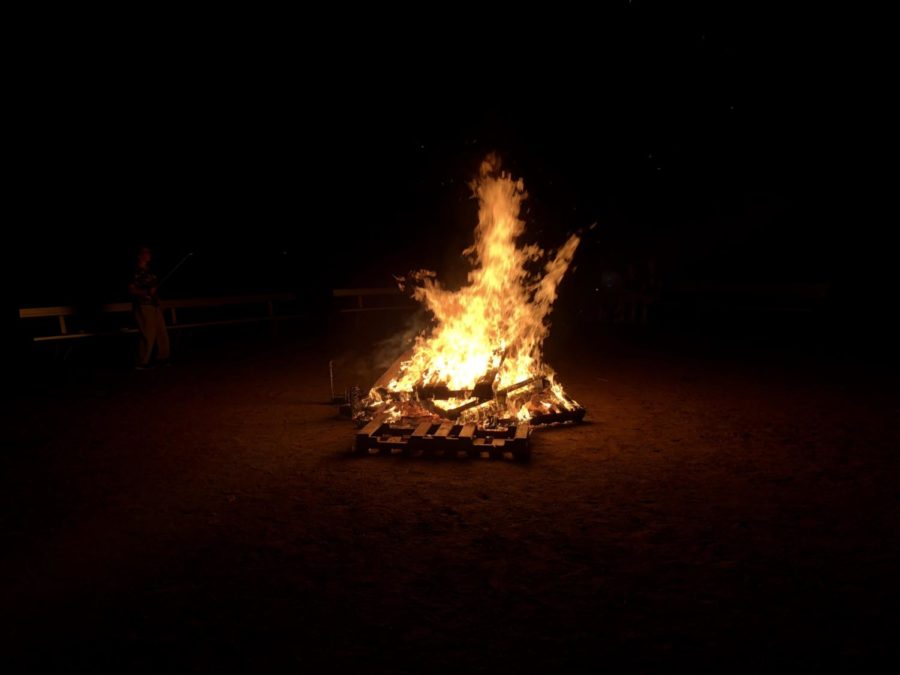 Following the upperclassmen Powderpuff game on the night of Wednesday, Oct. 10, Leadership ran a celebratory bonfire on the school's softball field. As some threw footballs on the grass, others roasted marshmallows before the fire grew too large, all huddled together beneath blankets by the home plate.
Students and faculty took the bonfire as a wonderful opportunity to raise spirits in preparation for Homecoming on Oct. 13.
"I like the sense of community that is shared by doing the bonfire. The students and staff had a great time hanging out together and making s'mores," senior JaneAnne Tvedt said. "The bonfire [has become] a staple during Homecoming week and it gets us ready to cheer our boys on during the game Friday."
Not only are students encouraged to attend the event, but faculty members such as Principal Ellen Reilly and Student Resource Officer Scott Davis also participate in the fun.
"The bonfire is fun because it brings the faculty and every grade together," senior Genevieve Deeken said.
After its first installment during the 2017-18 scholastic year, Leadership hopes to make the Homecoming bonfire a tradition in recognition of its success and positive response.
"We had the bonfire this year as it demonstrated to be a great success last year. We hoped to continue and build the event last year [because] it was fun for all students," senior Student Advisory Council member Sarah Rice said.
If the student body is to prolong its efforts in raising school spirit, Junior Student Advisory Council member Sophie Howery supports the continuation of the Homecoming bonfire.
"In a time where students are continuously concerned about college admissions and grades, it's nice to see the McLean body cherish moments with their friends and peers," Howery said. "I encourage everyone to attend next year!"