McLean Highlander baseball rips Langley Saxons on the bottom of 9th
Hang on for a minute...we're trying to find some more stories you might like.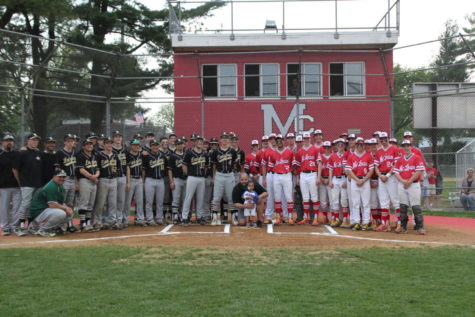 No one on the field could've predict the result of a long and neck-to-neck battle between McLean Highlander and Langley Saxons baseball. In order to solidify its standing in the conference, the Highlanders must win against the Saxons.
Senior outfielder Marshall Pratt is up-at-bat on the bottom of the ninth inning. He did not see much success in previous three attempts. Bases are loaded. Down by three points, the pressure was on the Highlanders. Pratt hits a rocket between the third base and the third baseman. The white ball continues to cross the outfield–it's a fair ball. His double ties the game.
BOT 9th: @McLeanathletics's Marshall Pratt rips a 3-run double, tying the score at 7-7. pic.twitter.com/VbUlYQoZTt

— Jon Roetman (@jonroetman) May 5, 2018
Langley's coach decides to walk next two Highlanders; the bases are loaded once again. Since the bases are loaded, it is easier for the Langley defense to get out the runners on the bases.
McLean so-called "Big Boy" senior Yanni Famakidies sends the pitch right back to the third base side. The eager third baseman throws the ball back to the first base, yet it was a wild ball. The error caused by the third base allows Pratt to return to home without much hurry. Pratt, who tied the game, handed McLean Highlanders valuable victory against a conference opponent and traditional rival school.
FINAL: @McLeanathletics scores 4 in the bottom of the 9th and a throwing error gives the Highlanders an 8-7 win over @LangleyBaseball. pic.twitter.com/1BW8AAwZOi

— Jon Roetman (@jonroetman) May 5, 2018