How Time Flies
Dean Howarth says goodbye to McLean after 30 years of teaching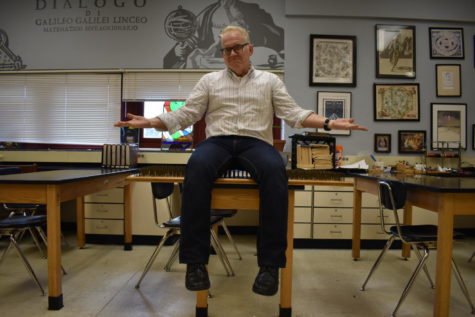 From the moment you walk into physics teacher Dean Howarth's classroom, you come to the quick realization that it is no ordinary class. From the awkward shape of the classroom itself, to the dozens of random items that line the walls like swords and science trophies, to the mural dedicated to Galileo Galilei, Howarth's room is a perfect synopsis of his teaching method and the philosophy that has allowed him to succeed for 30 years: anything but normal.
For the past three decades, Howarth has used unconventional teaching methods to bring his classroom to life. Yet even after thousands of days, he still remembers his first at 1633 Davidson Road as if it was yesterday.
"I had a reporter following me around because [The Washington Post] wanted to do a story on a teacher's first day," Howarth said. "The funny thing was I was trying to pretend to be mean so I wrote 'have a seat and shut up' on the board. After that, it was a joke and I was nice to everyone, but The Washington Post put that picture as the cover for the paper, and all week I saw the letters to the editor that said I should be fired…and look where I am now."
Howarth's dream of being a science teacher took shape early, thanks to famous scientists like Carl Sagan whom he credits with inspiring him to pursue a teaching career."In 1979, I was watching Sagan's TV show called Cosmos, and I thought that it was so cool that he would share science in a way to make it interesting to everyone so that they could also experience that same wonder about the mystery of the universe," Howarth said.
After graduating from Virginia Tech in 1987, Howarth quickly found a teaching job in Fairfax County and began working at McLean High School as a fresh-faced and ambitious 22-year-old. Even back then, Elizabeth Lodal, McLean's principal at the time, told The Washington Post, "He's going to be a superstar."
Howarth has, in many ways, lived up to the praise he was given as a young teacher. He has always been well-liked and respected by many students for his easy-going and genuine personality, and while it is easy to demand structure and strict guidelines, he believes the best way of getting to students is by being more than an authority figure.
"I've always thought you could get more out of students by giving them a little respect and have them steer the boat themselves. Sometimes people don't rise to the occasion, but for the most part young adults can handle being in charge of their own education," Howarth said.
Howarth has seen his efforts pay off, being invited to eight of his former students' weddings and even seeing some of his students become teachers at McLean themselves."He was always extremely engaging and very funny in a quirky way," said English teacher and McLean Class of 2002 graduate Anna Caponetti, who had Howarth as her physics teacher during her junior year. "I always thought that he cared a great deal. He had a dry sense of humor…and he always seemed to care when someone was going through something."Caponetti notes that while she may not see him as often as she did in high school, she still remembers the time fondly.
"I run into him every once in a while around the copier. It's nice to talk to him. I always remember having him as a teacher," Caponetti said.
But not every day at McLean has been perfect. Howarth can recount many difficult times throughout his teaching career.
"With everyday life, you have up days and some down days," Howarth said. "I've had tragic days where I have had former students pass away, which is always upsetting. There were dark days where I thought Fairfax County was on its way down…and while I think we have stopped that, it seems as if in the past 10 years, everyone has gotten way too uptight and grade-conscious. Everyone is so worked up and worried about making their resumes and transcripts look good that they're forgetting how to be fun anymore."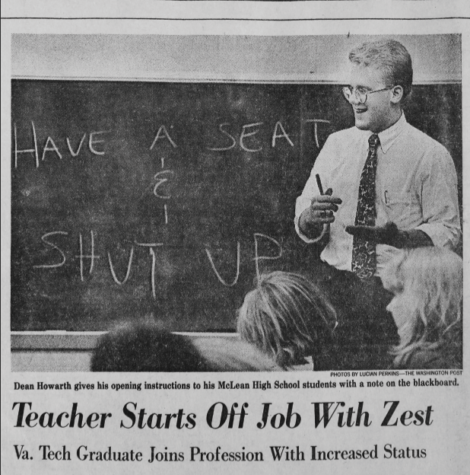 Even with the struggles and growing pains of teaching at a high school of over 2,000 students, Howarth stresses that he would not be the man he is without their insight and knowledge.
"It's a two-way street," Howarth said. "Part of me is still a teenager. I firmly believe when a teacher forgets what it's like to be a teenager, they aren't as good of a teacher anymore."
Howarth's students appreciate the youthful energy he brings to the classroom day in and day out.
"I always loved going to physics because we always had fun in Mr. Howarth's class. He made the work enjoyable for everyone," senior Natalie Cole said. "It wasn't just all notes or lectures. We got to know him as a funny man who loves what he does."
As a career-long member of the McLean staff, Howarth sees new teachers starting at McLean every year. He can relate to their first-year jitters and has seen that it's not for everyone.
"Teaching is a very easy idea. It is not easy to do. It's an art as much as it is a science," Howarth said.
With the final months of his FCPS career on the horizon, Howarth may be unsure of what the future holds, but he does know that it will not be very different from where he is now.
"I will teach in some regard somehow, somewhere… There's a very exciting, wonderful world out there that has lessons to teach me, and whatever lessons I learn, I think I would be compelled by my very nature to teach it to someone else," Howarth said.
Howarth's current students know that McLean will not be the same when he leaves next year.
"It'll be weird for sure," junior Leeban Egeh said. "Ever since I was a freshman, and even before me, Mr. Howarth has been here, he's been what you think [of] when someone brings up physics. When you saw Howarth on your schedule, you knew you were in for a fun year. I feel bad for the sophomores who are missing out."
For those of his students who are unsure about what to do in their careers and futures after high school, Howarth gives reassuring advice, as he always has, to guide them in the right direction.
"We have people who want to go out, make a lot of money and be a computer programmer or a financier. But society doesn't run on that," Howarth said. "We need poets. We need scientists. We need engineers and musicians… If you have a passion for something, you should go where your brain and heart take you."