Robotics prepares for regionals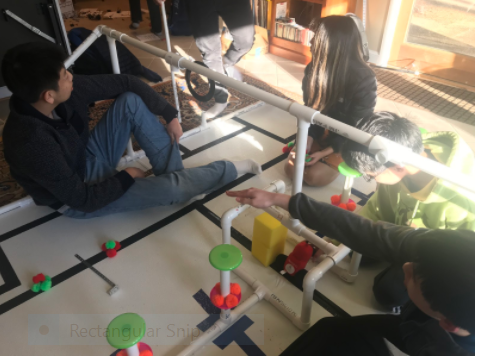 Hang on for a minute...we're trying to find some more stories you might like.
The Robotics team at McLean is preparing to go to regionals on April 7th at Annandale High School. Every year, various competitions, called Botball, are held where the team must prepare two autonomous robots ahead of time to perform certain tasks on the "game board."This year, the game board is agriculture themed, with sorting pom poms by color, moving a hoop up a ladder, and retrieving a stuffed mascot all playing a part in what the robots have to do.
The team gets the game rules about two months before the tournament and immediately start working on the robots and the game board.
"We already have built a full practice board which is a replica of the game board. The building team is completing arms/claws for one of the robots, and the programming team is coding for accurate movement functions," senior and president of the Robotics team Sungmin Kang said.
The team has been working hard to develop the robots, with only some bumps along the way.
"Some problems this year were connection and functional issues with the Wallaby, a hardware we program the robots with. There also have been disagreements within the team on how to approach the game and what strategy to use," Kang said.
However, despite some disagreements as well as starting late due to the lack of meeting space, the robotics team is on track for a great run at Annandale. Some signs of this are in the accelerated preparation speed from last year's team and the team discussion where a flexible game plan was decided on for the tournament.  
Kang believes the team will do well "if there isn't any spontaneous problems on competition day and we continue the way we are preparing for the tournament."