Lying down to stand up for Parkland victims
Northern Virginia students lead protest against gun violence
On Feb. 19, 17 students from high schools in Northern Virginia laid themselves on the dampened streets of Washington D.C. for three minutes in order to stand up against gun violence. While the event began as an effort from two juniors at the Potomac School, their 'lie-in' protest was met by wide attention.
"The number 17 is significant because that's how many people died in the Parkland shooting and the number three is significant because that's about how long it takes to buy a gun in the United States," said Eleanor Nuechterlein, a junior at the Potomac School and one of the event's primary organizers. "The protest received a lot of attention from the media and about 300-500 people showed up."
McLean juniors Julia Green and Genevieve Deeken participated in the lie-in. The girls see this endeavor as an integral step in creating actual change in national gun policy, as well as an important measure in honoring the victims of the school shooting in Parkland, Florida on Feb. 14.
"We decided to participate in the lie-in because we wanted to make a statement to politicians, representatives, and citizens across the country that gun reform is imperative for a safer society," Deeken said. "We wanted to demonstrate our support to both the victims and the families affected by the Florida shooting."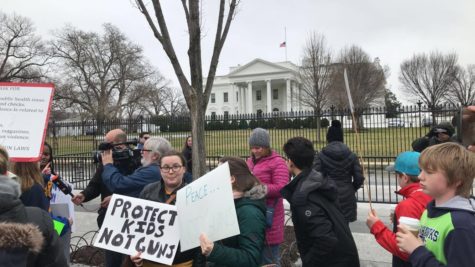 Students who participated in the lie-in feel that opposing gun violence is an issue that extends beyond party lines. Green affirms that speaking out against the phenomenon is critical to the safety of students nationwide, especially when the protests stem from the efforts of the youth themselves.
"In this highly-charged political climate, the student population serves as a new voice. In recent years, a split between left and right wing views has caused major unrest in the field of politics," Green said. "I think that the students are exhibiting more leadership than our elected officials and our close proximity to the issue of gun control, in relation to fear for our safety, is ultimately driving the passion behind the student-led protest."
The success of their lie-in came not only from the ideology behind it, but from the mass attention that the event received. Nuechterlein and her peer Whitney Bowen hope to continue with this kind of student-led activism in the future.
"I think many students are leading these protests because people my age are realizing that this can happen to anyone, anywhere," Nuechterlein said. "Now we are working to use the media platform we've created with our Facebook page to bring attention to other student-led protests across the nation."
Green sustains that student-led protests like the lie-in can incite the change that legislative policy needs to see.
"We are the future of voters," Green said. "Whether the change [will] come immediately or in the years ahead, this politically active and passionate generation is ultimately behind the future."