The Grammys continue to celebrate the mainstream
The same artists and genres dominate year after year
Sixty years ago, Frank Sinatra took home the first Grammy award. This past Sunday at Madison Square Garden, the tradition was continued with the 60th Annual Grammy Awards ceremony.
The performance stage was stacked with huge stars from several different genres, including Lady Gaga, Bono, Sam Smith, Kendrick Lamar, and more.
The eligibility year for this year's awards was October 1, 2016 to September 30, 2017. Any recordings that were released after September 30 can be considered for the 2019 Grammys.
Although the performances were entertaining, the awards ceremony was boring and predictable. The Grammys are often criticized for their lack of genre diversity in award winners. Pop music has historically dominated the event, and this year was a year in which artists and viewers alike hoped that voters would break out of the pop music mold and expand into other genres like hip-hop and alternative rock.
Despite the calls for awarding different genres, the Grammy voters continued to primarily vote for pop artists. Pop star Bruno Mars won all six of his nominations, and despite earning eight nominations, Jay-Z went home Sunday without a Grammy.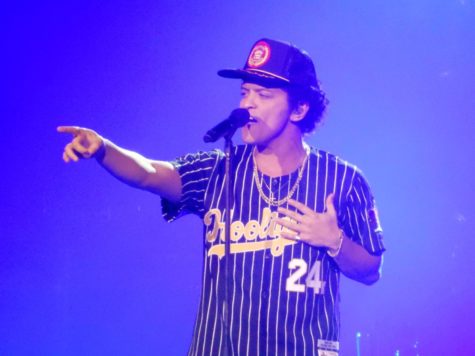 Many people expected "Despacito" to win a Grammy for Song of the Year, which would have been a huge success for the Spanish-speaking music industry. Although the song gathered almost 5 billion views on YouTube, the Grammy went to Bruno Mars' "That's What I Like."
Network viewership for the Grammy awards has decreased greatly over the past couple of years. Interest among young people is especially low.
"I don't watch the Grammys because most of the artists that win Grammys are big artists that people already know," senior Thub Amdo said. "There's nothing exciting about the Grammys because even before watching, everyone pretty much already knows who is going to win."
It is extremely difficult for new artists to win a Grammy. Most Grammy winners are artists that are already firmly established as mainstream stars in the music industry. The Grammys are designed to celebrate the mainstream, not to help fans discover new talent and underground music. 
The Grammys do have a "Best New Artist" Category, but most of the nominees for that category had been popular for over a year. In the age of the Internet, the definition of a "new artist" has become much more short-term, and artists can blow up seemingly overnight.
The Grammys Committee has already created a task force to help female advancement for next year. The 2019 Grammy voters should continue to make an effort to push their boundaries and try to diversify their winners.
Grammy Stats:
Network Viewership: 19.8 million (down from 26.07 million in 2017)
Most Nominations: Jay-Z (8)
Most Won: Bruno Mars (6)
Record of the Year: 24K Magic – Bruno Mars
Album of the Year: 24K Magic – Bruno Mars
Song of the Year: That's What I Like – Bruno Mars
Best New Artist: Alessia Cara
Best Rap Song: Humble – Kendrick Lamar
Best Rap Album: Damn. – Kendrick Lamar