S(NO)w Days
Fairfax County students suffer from far fewer snow days than previous years
Laura Opsahl-Ong, Reporter
February 6, 2017
Filed under Features
Hang on for a minute...we're trying to find some more stories you might like.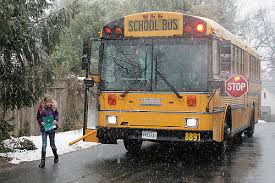 Photo obtained under a Creative Commons license

This time last year, we had already had multiple snow days. Students were enjoying lots of time curled up at home, as teachers worried about squeezing all of the necessarily material into the months left until the AP exam. This year, however, we've only had two light snows and one two hour delay, and as January comes to an end, there isn't much hope of snow in the future.
"After the amount we had last year my expectations were really high this year, so not having much has really dampened my mood" said junior Nate Shin. 
The shortage of snow has been a letdown for many McLean students, and many are beginning to lose hope of having nearly as much snow as previous years.
"The lack of snow is really disappointing," said senior Nikki Bellini.  "I was hoping for a lot of snow days for senior year, but I guess that's not going to happen."
With so few days off between winter break and spring break, some students feel like they rely on snow days in this time period to give them a chance to relax and maybe even catch up on homework. However, others don't feel like snow days really help them with their heavy work loads.
"For the most part, I'd say my productivity doesn't go up unless I really have an assignment such as a project that I haven't done much work on, but the extra sleep always helps," said Shin.
Some students even feel like snow days can be detrimental to their school work.
"It's always nice to get a break and sleep in but if we miss too many days it's really hard to catch back up in time for AP exams and classes end up moving to fast. There needs to be a balance," said Bellini.
Students aren't the only ones that can struggle with having too much time off of school.
In the past couple of years, teachers have had to condense their schedules in response to the snow days. AP teachers especially have had problems with being able to fit all of the required learning material into the time before the AP test.
"Last year, my teachers mostly were teaching about one and a half lessons every class, and cutting back on review days and other activities to continue teaching," said Bellini. "But either way, its senior year so I want as many days off as possible and am still hoping that there will be more snow days."
However, with temperatures reaching highs in the 60s next week, many snows days (if any at all) looks increasingly unlikely.